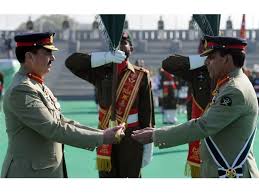 ISLAMABAD, Nov 29: Outgoing military chief General Ashfaq Kayani on Friday handed over the command of the army to Chief of Army Staff Gen Raheel Sharif.
He passed the baton of command to Gen Sharif at a ceremony held in the Army Hockey Stadium, close to the General Headquarters (GHQ).
The entire area around the venue of the ceremony was blocked off with military and police personnel deployed in the area. Except for the invitees, no one was allowed to move into the area.
The change of command ceremony was attended by federal ministers, services chiefs, diplomats and senior serving and retired officers.
Speaking at the ceremony prior to handing over the baton of command to Gen Sharif, Kayani said leading Pakistan army was an honour for him. He said during his time as army chief he had experienced a wide array of challenges on which the military focused its full attention as a national institution.
The military worked with honesty and dedication, Kayani said, adding that it was only through the sacrifices rendered by the soldiers and the officers that peace could be established in some of the most challenging parts of the country.
He said the army had never disappointed the nation, the support of which was imperative for the military to continue its work with dedication.
He paid his respects to those killed during the "difficult time" that the country was going through, including the women and children whose lives were lost.
On Wednesday, the government had announced career infantry officer Raheel Sharif to succeed Kayani. Gen Rashad Mehmood was named the chairman of Joint Chiefs of Staff Committee the same day.
Just prior to his appointment, Gen Sharif was serving as Inspector General Training and Evaluation with the rank of a Lt General.
Gen Sharif also holds the Hilal-i-Imtiaz military award, and is the younger brother of late Major Shabbir Sharif, who received the Nishan-i-Haider for his services in the 1971 war.
Gen Sharif's selection as army chief selection implies that frontrunner and the senior most military officer Lt Gen Haroon Aslam was ignored for the elevation. Lt Gen Aslam retired soon after the latest key military appointments.
The post of army chief is arguably the most powerful in Pakistan and anxiety had prevailed in Pakistan on who will replace the taciturn, chain-smoking Kayani.
Kayani's retirement from the post comes after rules were relaxed to grant him an extension in July 2010 by the PPP-led coalition government in what then prime minister Yousuf Raza Gilani said was in the interest of continuity at a time when the war on terror was successfully continuing against elements who wanted to impose a system of their choice on the country.