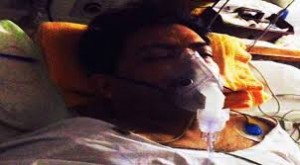 LAHORE, April 21: Journalists, civil society activists and politicians have demanded early arrest of the perpetrators of the attack on anchorperson Hamid Mir, while terming it an attack on the freedom of speech and expression in Pakistan.
A large number of journalists and civil society activists gathered at the Lahore Press Club where they held a protest demonstration after passing a condemnation resolution. Hamid Mir sustained three bullet injuries in an attack on Faisal Avenue in Karachi by four unidentified gunmen, on Saturday. Doctors said one bullet pierced his intestine while two others wounded his leg and pelvic area, however he was out of danger.
The Lahore Press Club condemnation resolution and protest rally was joined by Pakistan Tehreek-e-Insaf Punjab President Ejaz Chaudhry, MNA Shafqat Mahmood, Andleeb Abbas, Punjab Federation of Union of Journalists leaders Rana Azeem, Afzal Butt and other office-bearers. LPC President Arshad Ansari, Afzaal Talib were also present there. Senior journalists including Geo Lahore bureau chief Khawar Naeem Hashmi and other journalist from Jang Group also joined the demonstration.
Civil society activists including former chairperson of Human Rights Commission of Pakistan and former President Supreme Court Bar Association Asma Jehangir, Hina Gilani, IA Rehman, Abid Hassan Manto, Imtiaz Aalam, Jungo Mohin, Mehmal Sarfraz also participated in the protest rally and demanded early arrest of culprits involved in attack on Hamid Mir besides arrest of their mastermind. The protestors were holding various placards inscribed with slogan in support of Hamid Mir and press freedom.
LPC president Arshad Ansari said that the journalist community would boycott covergare of the government if proper and quick inquiry was not made and justice was denied. Khawar Naeem Hashmi said three bullets cannot stop him (Hamid Mir) from speaking truth. "Our fight which is continue from past will continue for the sake of truth and for the country."
Earlier, a condemnation resolution was passed in LPC demanding a transparent investigation and bringing the culprits to the book. Separately, Opposition Leader in National Assembly Khursheed Shah, while talking to media at Lahore airport condemned attack on Hamid Mir and urged the government to hold a transparent probe into the incident. PU vice chancellor Professor Dr Mujahid Kamran, Punjab University Academic Staff Association president Ihsan Sharif and secretary Javed Sami have also condemned the attack.
PU Institute of Communication Studies, the alma mater of Hamid Mir, where his father Waris Mir also served as chairman, has prayed for the early recovery of their journalists. ICS teachers and students have demanded the government to book the culprits at the earliest possible.
Punjab Chief Minister Muhammad Shahbaz Sharif has said the attack on a senior journalist Hamid Mir is tragic and highly condemnable. He prayed for early recovery of Hamid Mir. He was talking to media after inaugurating Walton Flyover Sunday.
The chief minister prayed that Hamid Mir take up his journalistic responsibilities again. He said that attack on Hamid Mir was an attack on freedom of press. He said that the federal government would conduct inquiry into the incident and ensure punishment to the culprits. He said that the elements involved in this heinous act will soon be apprehended and brought to justice so that no one could dare attack journalists again.
Federal Information Minister Pervauz Rasheed while talking to media at Lahore airport said as per a directive of Prime minister a committee was being constituted to conduct a transparent probe into the incident. He expressed his complete solidarity with the Hamid Mir and his family as well as the journalists community.
The attack on Hamid Mir has brough large-scale criticism of the government as well as the law enforcement agencies by the Pakistani and foreign media. India media has launched a campaign against ISI quoting a statement of Amir Mir, the brother of Hamid Mir, who is also an investigative journalist.
An ISI spokesman has condemned the attack on Mir and the allegations against the ISI: "The spokesman has condemned the incident of firing on senior anchor Hamid Mir, prayed for his wellbeing and quick recovery. The spokesman said that an independent inquiry must immediately be carried out to ascertain the facts.