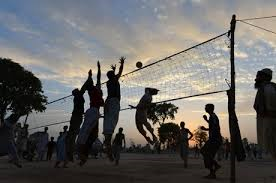 PESHAWAR, Jan 4: At least five people, including some football players were killed and 11 injured on Sunday in a bomb attack in Pakistan's restive north western tribal region during a match, officials said.
A bomb exploded at a playground in Kadda Bazaar area of Kalya, the main town of Orakzai district today, killing five and injuring 11 people, Khiasta Akbar Khan, a local official said.
"Five people were killed and 11 injured in the bomb explosion," he said.
The officials said that the attack took place when the spectators were watching a volleyball match but Radio Pakistan reported that a football match was in progress during the attack.
No militant outfit has taken the responsibility of the attack so far.
Nazim Ali, Waseem and Sarfraz Ali are some of the players among the dead, officials said.
Initial reports have shown that a planted device was used in the explosion.
The security forces have cordoned off the Shia-dominated area and started search operations.
Prime Minister Nawaz Sharif condemned the blast and deplored the loss of lives.
He emphasized on the government's resolve to eradicate the menace of terrorism and extremism.
The bombing comes as the first major terror attack on Pakistani soil in the new year.
The country witnessed one of the deadliest attacks last month, when Taliban killed at least 149 people, mostly children at an army-run school in Peshawar.