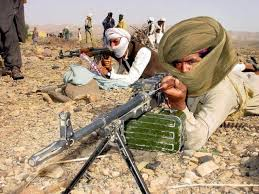 ISLAMABAD, April 30: The government is all set to approach five countries and the United Nations to seek extradition of top Baloch insurgents accused of fomenting unrest in Balochistan which has been in the throes of a low-profile separatist insurgency since 2006.
The security agencies have identified 161 training camps of Baloch insurgents, nearly two dozen of them are believed to be located in Afghanistan and two in Iran.
"We are taking up the issue of Baloch insurgents with five countries [India, Switzerland, United Kingdom, Iran and Afghanistan]," said a top security official, who did not want to be named in this report. Dr Allah Nazar, Hyrbyair Marri, Brahumdagh Bugti, Javed Mengal
and some other wanted insurgents are commanding their fighters in the province, he added.
Hyrbyair Marri, the head of the Baloch Liberation Army (BLA), has been living in self-exile in the United Kingdom where he has been granted political asylum. The BLA has been responsible for most violence in Balochistan.
Army chief General Raheel Sharif and Interior Minister Chaudhry Nisar Ali Khan had taken up Marri's issue with British officials and sought his repatriation to Pakistan, the security official said.
Brahumdagh Bugti, the founder of the Baloch Republican Army (BRA), has been living in Switzerland seeking political asylum. The BRA has been involved in attacks on security forces, national installations and civilians in Balochistan.
The security official said Islamabad through diplomatic channels was also in contact with Swiss authorities to bring Brahumdagh back to Pakistan. "The Afghan government has assured Pakistan its full support to stop Baloch insurgents from operating from its soil," he added.
The government has requested Iran through its Deputy Foreign Minister Hassan Qashqavi to make maximum efforts to block the influence of some Baloch separatists operating from Iranian soil, he added. "Pakistan is considering taking up the issue of Indian involvement in Balochistan unrest at the United Nations," he added.
Earlier this month, the government quietly expanded the scope of a targeted military operation in Balochistan with the consent of the provincial government in an effort to dismantle the training camps of insurgents, the security official said. "We have expanded the military operation in Balochistan."
The paramilitary Frontier Corps is assisting the military in targeted operations against separatists. "IGFC Balochistan Maj Gen Sher Afgun had briefed Interior Minister Chaudhry Nisar Ali Khan on such operations earlier this week," he added.
The expansion of the operation came under the National Action Plan against terrorism, which is being executed by the armed forces across the country to wipe out militancy from the country, another senior official of the interior ministry told The Express Tribune.
The FC has been tasked to expedite operations against anti-state elements as well as to enhance border security, security of important places and state properties, said the official who is familiar with the meeting between the IGFC and Chaudhry Nisar.
The IGFC also floated the idea of bringing police from Karachi, Quetta, Peshawar and Lahore under the federal government for the time being to restore peace in the country's metropolitan cities, he added. "The IGFC also requested the interior minister for more funds to expand the scope of the operation."