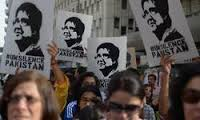 ISLAMABAD, May 3: Can the words of a grief-stricken woman be used to accuse her of treachery against the state? From the sentiments of social media users, it would appear so.
On the night of Sabeen Mahmud's murder, social media was awash with expressions of anger, disgust and disbelief at the killing of one of Karachi's leading civil society activists. One of the many tweets that expressed utter disgust and disillusionment with the current state of the country came from a woman who was close to Ms Mahmud.
"I stood in a dark corner of the house and cried. I was overcome with grief and couldn't process it. I was fed up with all the senseless violence that plagued Pakistan and in that state, I sent out the tweet."
That expression of grief, however, unleashed a nightmare for the woman in question. Days after the incident, when civil society members gathered to remember Ms Mahmud, the same tweet was re-circulated, this time amongst a more militant and decidedly more extreme segment of social media users.
Countless death threats, rape threats and messages inciting violence against her and other activists – such as Lums professor Taimur Rehman and National Students Federation activists – who were talking about human rights violations in Balochistan and asking for justice for Sabeen Mahmud, were issued by various social media users and pages.
"I've worked on sensitive issues before, and have received my share of hate mail. But this harassment was on a scale I had never seen before. The rabidity of the comments, across all social media platforms, got to me and, on the advice of some friends, I deactivated my accounts on social media," she told Dawn.
Threats of physical and sexual violence against women are not a new phenomenon on social media and the fact that many of the users copy-and-pasted the exact same message again and again has led a number of IT experts to observe that this appeared to be a coordinated effort.
Fahad Desmukh, a journalist and rights activist, told Dawn that even though freedom of expression activists preferred to err on the side of more freedom, the reality of social media was that users – especially public figures – would have to put up with a certain amount of abuse and venom from others who do not agree with their ideas.
"However, when that abuse turns into threats of rape, physical violence or incitement to violence against the victim, that is very scary," he said.
Shahzad Ahmed, country director of the digital rights group Bytes For All, said that even though offences such as these were covered in the Criminal Procedure Code (CrPC) and the Pakistan Penal Code (PPC), law enforcement agencies aren't the best forum for victims, especially women, to take their cases.
The law provides protection, for example, against incitement to violence under Section 109 of the PPC; against intimidation and threats to a person's life under Section 506; and against threats of injury or damage to property under Section 503. However, Mr Ahmed said that these laws had never been properly enforced in cases where online activity has been concerned.
"If an individual, especially a woman, takes her case to the National Response Centre for Cyber Crimes (NR3C), local law enforcement or even the courts, there is a tendency to blame the victim," he said, adding, "a woman exposes herself to more scrutiny and name-calling by pursuing their case through the authorities".
This is reminiscent of what happened to the late Sabeen Mahmud around Valentine's Day two years ago, when she ran a campaign extolling peace and love. 'Faasla na rakhein, pyaar honay dein' was the message she and her fellow campaigners were spreading.
However, around the same time, a parallel movement that cited Islamic texts and opposed the observance of 'decadent festivals' such as Valentine's Day, cropped up in Karachi and other cities. When Ms Mahmud dismissed their views via her social media account, a concerted campaign was initiated by conservative elements to malign her. They even insinuated that Ms Mahmud had insulted scripture and termed her a blasphemer.
This is a very dangerous accusation in Pakistan, where dozens are killed in the name of blasphemy every year, without anything in the way of due process. So when Ms Mahmud approached the authorities, her plight was belittled and she was asked, "Why did you do this in the first place?"
Both Mr Ahmed and Sana Saleem of Bolo Bhi told Dawn that even though social networking sites such as Twitter and Facebook have strict policies regarding incitement to violence and threats of sexual or physical assault, the sites are not always quick to take action against malicious content.
"A good way to get a dangerous post removed is to get a couple of dozen people to report that post or user. If enough people report it, the website is forced to review it. Sometimes they don't and we get in touch with them directly and plead the case. But we can do this because we've had contact with the Facebook team. Not everyone has that kind of access," Ms Saleem said.
The situation becomes more perilous when the vitriol is echoed by Facebook pages and Twitter accounts that purport to have intimate knowledge of the military's workings. For example, the Facebook page called simply 'ISI' – with over 341,000 subscribers, as well as its allied Twitter page, '@ISI_RT' – have posted photographs of human rights activists, including women, and extolled followers to murder, rape or do bodily harm to them.
Due to the nature of the incident – Ms Mahmud was killed shortly after hosting a controversial seminar titled #UnsilencingBalochistan where Baloch nationalist activist Mama Qadeer was also invited – many of her friends placed the blame for her killing squarely on the state's shoulders.
A military official Dawn spoke to regretted the practice, but said that the army had little to no control over such pages.
"Journalists and media savvy individuals know that ISPR has one official website and only one Facebook and Twitter page. Most of these other pages copy information from the official websites in order to establish their credibility. They can be operated by anyone, but the average user is not necessarily in a position to judge that," he said.
The official pointed out that ISPR had issued formal statements in the past, explaining that neither the chief of army staff, nor the DG ISI, have accounts on social media. This was because imposter accounts purporting to be run by the two senior functionaries became quite popular on social networking websites, leading many users to believe that they were, in fact, genuine.
"Social media is a comparatively new medium, so we are looking into what can be done. But in the absence of a proper mechanism whereby such content can be checked, e.g. a cybercrime law, there is only so much the institution can do to clarify its position," he said.
Veteran rights activist Hina Jilani disagrees. "Defending human rights is one of the most difficult things to do in this country. If the state cannot protect lawyers or activists who are involved with sensitive cases, what guarantees are there that the state is not backing their actions," she asked, rhetorically.
Ms Jilani – who has been a vocal human rights activist for many decades – was also targeted by several social media users for her defence of Sabeen Mahmud. However, saying that she did not bother with the social media at all, she said that the situation today was far scarier than it was back in her day.
"If journalists or activists fell afoul of the state, they were mostly hauled off to jail. Now, they are just bumped off. This practice began under Gen Zia but gained prominence under the rule of Gen Musharraf," she said.
Disagreeing with the impression that those with extremist views are 'lone wolves' without an agenda, she said that the fact that their views were freely aired on mainstream media, while progressive voices were stifled, proved that they enjoyed state support.
This is exactly what the woman grieving for Ms Mahmud is worried about.
"I have limited my presence on social media and am staying at home until the outcry dies down," she told Dawn, adding that even though she knew the cause was worth fighting for, it was only natural to be scared for one's own life given the extent to which Pakistani society had become intolerant of others' opinions.