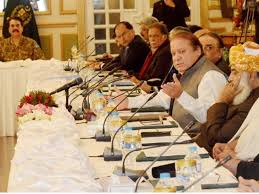 ISLAMABAD, Jan 2: The All Parties Conference (APC) at the PM House on Friday reached consensus on providing constitutional cover to special courts through an act of Parliament, while a roadmap regarding the 20-point National Action Plan was presented.
Speaking to the media after the meeting on Friday evening, PTI Vice-Chairman Shah Mehmood Qureshi said that members of the APC agreed on the proposition that amendments be made to the Army Act to enable "speedy" trials against "hardened criminals".
He added that the meeting was prolonged because of the discussion on whether what they were doing was enough.
"Legal experts were of the opinion that challenges are expected to any possible amendment to the Army Act or the Constitution in superior courts," Qureshi said. "Legal experts believe that if amendments are made with constitutional cover it will be easier to defend them [in superior courts]."
Earlier, Prime Minister Nawaz Sharif said legislation regarding the the National Action Plan, which would possibly amend the Constitution to establish military courts, should be tabled in the National Assembly today.
"The time has come for a final decision to be made today. I am hopeful that this bill should be presented before Parliament today. There is no room for further debate on NAP," Nawaz said, urging political leaders to finalise the draft for the amendment in the Constitution.
"The nation wants to see the National Action Plan in action," the prime minister said while addressing an All Parties Conference at the PM House in Islamabad.
Further, the premier reiterated that the military courts would only be set up for two years.
Nawaz lauded the efforts made by the leadership of all political parties for being on the same page following the aftermath of the tragic attack on the Army Public School in Peshawar in which 150 people were killed.
"I am happy to announce that the day after the incident, on December 17, all political parties' leaders were in Peshawar and on the same page," he said.
"In that APC, we unanimously decided that a parliamentary committee will be made to take action after the horrific incident," said the premier.
Further, the prime minister said another meeting was held on December 24, which lasted 11 hours, in which the 20-point National Action Plan was also agreed upon collectively.
"I am happy that the political leadership of Pakistan is standing together to work towards eliminating terrorism," he said.