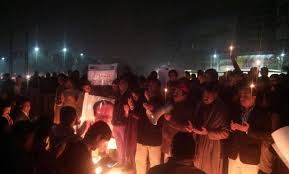 ISLAMABAD, Jan 4: Some enraged people attacked the participants of a candle light vigil organized here to mark the death anniversary of former governor Salman Taseer.
People had gathered at Liberty Chowk to mark the death anniversary of ex-governor of Punjab, Salman Taseer, who was shot and killed by his own guard, Mumtaz Qadri, in broad day light in December 2010 in Islamabad.
A group of four-five people showed up at the scene, snatched and tore up placards and photos of Salman Taseer before beating up the participants of the vigil.
The attackers indiscriminately kicked women and other participants. They also subjected the reporters covering the event to torture and hit threw their cameras on the road and also damaged their DSNG vans.
A TV footage captured this event and in it a reporter can be heard saying: "What is our crime?"
Geo News cameraman Badar Munir also received some blows from the attackers while window panes of the DSNG van were also smashed.
Panicked participants ran in all directions to look for cover.