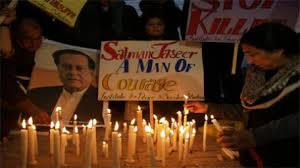 "Salmaan Taseer was a brave man who never shied away from raising his voice for the voiceless, the marginalised, the poor, and for women and minority rights. His martyrdom shook us all but it also made us realise that a brave man never dies…his legacy lives on," Journalist Mehmal Sarfaraz said at a candle vigil to mark the third death anniversary of Salmaan Taseer, former Punjab governor, at the Liberty roundabout on Saturday.
Salmaan Taseer's daughter, Sanam Taseer said her father's public life and private life had been the same. He was a man of compassion and candour. "As long as Article 33 remains law and Aasia Bibi continues to languish in prison, his sacrifice has been in vain," she said.
More than 150 participants at the vigil demanded the removal of blasphemy laws and Aasia Bibi's release from prison. They opposed the government's plans to hold talks with the Taliban. They chanted "Taseer, your blood will bring forth a revolution" and "religious extremism and fundamentalism are not acceptable". They held banners emblazoned with slogans like Down with Fanaticism; Down with Extremism; Shame on the Silent Majority; and Repeal Blasphemy Laws.
Awami Workers Party general secretary Farooq Tariq said, "We are here to condemn religious fundamentalism and declare that Mumtaz Qadri, who poses as a hero, is a villain. Taseer's only crime was to support a Christian woman falsely accused of blasphemy."
SAP-PK deputy director Irfan Mufti said, "We are here to mark a day for anti-terrorism and anti-extremism in remembrance of Salmaan Taseer who lost his life to build a tolerant society."
Ali Salman Alvi, a columnist for The Nation, paying tribute to the late governor, said, "Taseer was an ambassador of tolerance. He stood for the rights of minorities and the downtrodden. He had the courage to denounce the extremist mindset that has destroyed the fabric of our society. He sacrificed his life for humanity and will be sorely missed in our society which is increasingly becoming intolerant."
Columnist Marvi Sirmed said, "I am here for Aasia Bibi. Taseer knew the danger he was in for supporting her, but he did not back out for a minute. We have seen several incidents of intolerance since, yet no one has been arrested."
Sirmed said no FIRs had been registered against the culprits responsible for the incident at Joseph Colony and in the Rimsha Masih case…Rimsha's family had to leave the country instead.
Journalist Sirmed Manzoor said, "We are small in number and the extremist narrative is everywhere, but I am sure we can encourage more people to take a stand against extremism."
Syed Ahsan Abbas Rizvi of the Peoples Youth Organisation (PYO) said, "Pakistan Peoples Party has been orphaned since Taseer died on January 4, 2011."
Taseer was shot dead by his guard Malik Mumtaz Qadri. Qadri had shot him 27 times with an MP5 sub machine gun. He had been convicted of murder and sentenced to death. Later the Islamabad High Court admitted Qadri's appeal against the conviction.
In support of Qadri
As many as 250 students from several madrassahs in the city held a rally in support of Mumtaz Qadri on Saturday. The rally was organised by the Mumtaz Qadri Lovers' Forum. The participants walked from the Punjab Assembly to the Press Club holding banners and chanting slogans in favour of Mumtaz Qadri. Maulana Asharaf Jalali addressing the rally said politicians like Dr Tahirul Qadri, who had called Mumtaz Qadri a murderer, were villains.
The participants demanded that the government pardon Mumtaz Qadri and release him. "Mumtaz Qadri is our hero and we will sacrifice our lives if we have to in order to get him released," said speakers.
Published in The Express Tribune, January 5th, 2014.