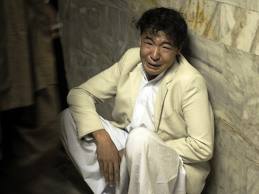 QUETTA, March 29: At least five people were gunned down, and six others sustained injuries, when a van carrying people belonging to the Hazara community was ambushed on Spini road in Quetta Thursday morning.
Law enforcement agencies and the police put security on high alert in the city after the incident.
According to a senior police official, the van was on its way to Marriabad from Hazara Town when a group of armed men opened indiscriminate fire near Killi Mubarak.
Five people, including a woman, died on the spot while six other were wounded.  The assailants fled the scene after the incident.
A heavy contingent of police and security forces reached the spot and cordoned off the area to collect evidence.
The bodies and injured were shifted to Provincial Sandeman Hospital and Bolan Medical Complex where an emergency had been declared. The injured were later shifted to Combined Military Hospital.
Policeman killed in protests
The incident sparked protest in different parts of the city, especially in areas dominated by the Hazara community on Brewery Road.
Protestors shot at security personnel, killing one policeman, Mukham Raza, and injuring a protestor.
Government Girls College Quetta College on Brewery Road was set alight, and fire brigades were called in to extinguish the blaze that engulfed the outer wall of the college building.
Protesters also intercepted two motorbikes and torched them.
The Hazara Democratic Party called for a shutter-down strike in Quetta on Friday (today) to protest the killings. Jamhoori Watan Party, Pashtunkhwa Milli Awami Party and the Awami Nation Party backed the strike call.
A senior police official said that Frontier Corps and police have jointly launched a search operation in different areas of Quetta, including Saryab, and arrested 45 suspects.
No group had claimed responsibility for the attack till the filing of this report.
The government has decided to form an exclusive force for the protection of the Hazara community following frequent incidents of targeted killings last year. Meanwhile, attacks on the community have intensified in the past few days.
2 UN workers shot dead
Two local UN workers were shot dead by unknown assailants in Mastung, about 50km from Quetta.
According to official sources, three persons, identified as Habibullah, Irfan and Mohammad Zahid were en route to Mastung from Quetta when armed men on a motorbike opened fire on their vehicle near Mastung Stadium bypass, killing two of them on the spot. Irfan sustained bullet wounds.
Law enforcement agencies rushed to the spot soon after the incident and cordoned off the area.
"They were working for UN Food and Agriculture Organisation and were coming to Mastung to visit their office," sources said, adding that the victims were residents of Quetta.
The bodies of the deceased and the injured were taken to Provincial Sandeman Hospital for autopsy and later handed over to the heirs for burial.
Chief Minister Nawab Aslam Raisani strongly condemned the killings in Quetta and Mastung and directed law enforcing agencies to arrest the culprits involved.