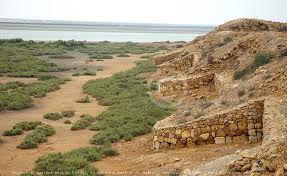 KUDOS to Sindh's culture department for holding a series of moots at heritage sites to highlight the latter's significance. The latest conference held last week at Bhambore with participation from national and international scholars and local citizens was part of the effort to draw public attention to the province's rich heritage. The ruins at Bhambore date back, arguably, to at least the early eighth century CE when the young Arab general Mohammad Bin Qasim conquered the port city of Deebal after a battle with a local raja.
Excavated pottery and building structures at the site reveal that it was indeed a thriving city located at a crossroads of the trade route that connected this part of the world with China in the northeast and the Middle East to the west. Much of the ruins at Bhambore still lie buried under the rubble of time, and only further excavations will reveal the true significance of this ancient site, which is waiting to be placed on Unesco's List of World Heritage Sites.
Sindh is home to some of the world's most spectacular historical sites, with prehistoric Moenjodaro being the envy of archaeologists anywhere. Together with Moenjodaro, the medieval-time Makli necropolis near Thatta, with its largely intact carved stone mausoleums, is already on Unesco's list. It is indeed sad that a chronic paucity of funds and the government's lack of interest in the past have not been able to solicit the international attention that these and other heritage sites in Sindh deserve.
Now with the culture department playing a more proactive role to streamline the importance of owning our heritage, it is hoped that conservation work will start at those sites in most need of it. The effort needs to be focused, sustained and carried out under the supervision of qualified conservation experts.