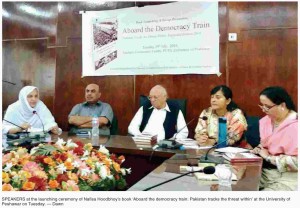 PESHAWAR, July 19: Speakers at a book launching ceremony here on Tuesday said that the state narrative in the country only promoted extremism and intolerance in the society.
There was dire need of an alternate narrative by the civil society and political forces to establish a tolerant and peaceful society where people of different faiths could enjoy equal rights, they said.
The 2016 expanded edition of "Aboard the Democracy Train: Pakistan Tracks the Threat Within" by Nafisa Hoodbhoy was lunched at University of Peshawar under the auspices of Institute of Peace and Conflict Studies.
The author, a senior journalist, said that as the only woman reporter in Pakistan's leading Dawn newspaper from 1984 till 2000, she was curious about the connection between day to day events and stored them in memory to tell the world some day about the larger picture.
She said that initially the book was published with a sub-title "A journey through Pakistan's last decade of democracy" and it was a frontline account of the country's decade of turbulent democracy from 1988 till 1999.
Ms Hoodbhoy said that in the present expanded addition she had included the latest events especially related to terrorism including Peshawar Army Public School carnage and China-Pakistan Economic Corridor (CPEC).
Lauding the author's approach, senior advocate and former MNA Abdul Lateef Afridi said that she had attempted to approach Pakistan's history with a fresh view instead of the existing state narrative taught since decades in educational institutions in the shape of Pakistan Studies.
"Unfortunately Pakistan had no history before 1947 and the history was that of the nationalities living here including Punjabis, Pashtuns, Bengalis, etc.
However, a narrative was developed by the state trying to compel these nationalities to stop talking about their culture and history and they should consider that their history only started with the creation of Pakistan," he said.
Mr Afridi said that the state narrative was based on religious lines which taught people that the members of other faiths were their enemies.
He said that ANP was the only party having a clear stand against militants as hundreds of its leaders and workers were killed, but still the establishment and a mindset developed by it was not willing to award certificate of patriotism to them.
He said that organisations like Jumat ud Dawah were openly holding public meetings and declaring those people, who did not share their ideology, as traitors. It showed that the state was still not willing to change its narrative, he added.
Shahana Ajoon, the mother of a killed student of APS, said that all the mothers of the killed students had raised several pertinent questions but so far they had not been given answers by the government regarding the incident.
She asked as to why hundreds of students were gathered at the main auditorium of the school when there was a specific threat to the institution.
Provincial chief of National Party Mukhtar Bacha raised the question whether existing social contract, which had bound the people, had resolved the issues in the country.
He said that soon after creation of Pakistan the Objective Resolution was passed and subsequently it was made part of the Constitution thus dividing the country on religious lines.
Mr Bacha said that they needed to start discussion for a new social contract, which should be based on scientific and sociological norms rather than intolerance and hate.
He added that the issues of class difference, democracy and sectarianism should be addressed in the new contract.
"We need a counter narrative to that of the state and the author had tried to provide that narrative in her book," he said.
Strengthening Participatory Organisations chief executive Naseer Memon said that there were several problems plaguing the country.
He said that they were not ready to accept identities of different nationalities. He said state was dealing only with symptoms of terrorism instead of its causes, which were inherent in the state narrative.
Pakhtunkhwa Olasi Tehreek leader Dr Said Alam Mehsud said that not a single political party had demanded independent judicial inquiry into APS carnage as they were stopped by the security forces from doing do.
He added that on June 15 a standing committee of Senate demanded that CPEC should be under Council of Common Interests instead of Planning Commission, but media did not give coverage to it as they were stopped by certain quarters from doing so.
Women rights activist Rukhshanda Naz, who also moderated the programme, and head of Khawendo Kor Maryam Bibi said that the author had not ignored gender perspective while writing the book and had also included in it the miseries of women during militancy.
Published in Dawn, July 20th, 2016