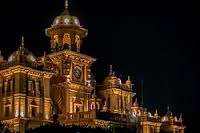 The 2016 Expanded Edition of `Aboard the Democracy Train, Pakistan Tracks the Threat Within' will be launched on July 19 in Peshawar University under the auspices of the Institute of Peace and Conflict Studies.
Peshawar has been selected as the venue for the launch of the book because of the city's front line role in the Afghan war. In this current edition, the book addresses how the horrific attack on Army Public School, Peshawar brought into sharp focus the long standing relationship of Pakistan's army with the Taliban.
The event will be held at Teachers Community Center, University of Peshawar between 3-5 pm.
For more information contact Literary Secretary, Noor Sanauddin