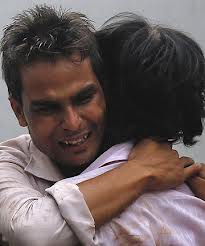 KARACHI, Sept 13 — The towering metal door at the back of the burned-out garment factory could have been an escape for many of the low-paid textile workers caught in the fire here on Tuesday. Instead, it stands as a testament to greed and corruption at a factory where 289 trapped employees died. .
As hundreds of workers scrambled to escape the flaming factory after a boiler explosion, they found the main sliding door — 30 feet high, big enough for a truckload of cotton — firmly locked. Instead of letting the workers escape, several survivors said Thursday, plant managers forced them to stay in order to save the company's stock: piles of stonewashed jeans, destined for Europe.
"They prevented people from leaving, so they could save the clothes," said Shahzad, a stone-faced man in sweat-drenched clothes, standing in the blacked corridors of the factory.
His voice trembling, Shahzad, who goes by just one name, said he had already recovered the body of a 15-year-old cousin; now he was looking for his 23-year-old brother, Ayaz. He figured he was buried under the mounds of ash and twisted metal.
"He's gone," he said quietly.
Karachi buried its dead on Thursday amid grief and recrimination over the deadliest industrial accident in Pakistan's 65-year history.
Sounds of mourning filled working-class neighborhoods as emotionally charged funeral processions wound through the narrow streets. Amid such a high death toll, the stories of misfortune competed for pathos — one street lost eight residents; a mother said she lost three daughters to the inferno, then a son who tried to rescue them.
At the factory, known as Ali Enterprises, rescue workers quenched the last flames 48 hours after they started. Volunteers cast bundles of smoldering jeans from a first-floor window.
Meanwhile, the police spent a second day hunting for the factory's three owners, who now face possible charges of conspiracy to commit murder.
Mirza Ikhtiar Baig, the prime minister's adviser on textiles, noted in a statement that after the first fire engine reached the scene on Tuesday, firefighters found that the manager had ordered the gates to be closed, "not allowing anyone to leave the premises without checking."
Instead, up to 600 factory workers were left with just one open exit, or forced to take their chances plunging from windows considered too high to require bars.
Inside the factory, warmth still glowed from the pitch-black basement where many workers perished from smoke inhalation.
Muhammad Raheel, a rescuer, said he helped recover 30 bodies before fainting and having to be carried out on a stretcher. "I still have visions in my head," he said. "It is impossible to forget."
The disaster was a blow to an already struggling city: Karachi, a bustling megalopolis of an estimated 18 million people that has come to represent both the immense promise of Pakistan and its tragic failings.
For decades, Karachi and its growing factory sector have been a magnet for migrants, both from outside Pakistan's borders and within them.
Afghans and Iranians arrived in huge numbers in the 1980s, fleeing war in their homelands. Recent years have seen a strong flow of ethnic Pashtuns from the Taliban-affected areas of northwestern Pakistan, as well as refugees from surrounding areas of Sindh Province displaced by the floods of 2010 and 2011.
The Ali Enterprise factory was a microcosm of Karachi. "We had Biharis, Gujratis, Baloch, Sindhi, Pashtuns, Urdu-speakers, Punjabis," one survivor said. "Everyone worked here in peace."
But that harmony has often been missing from the city's streets, plagued by increasing violence in recent years: sectarian blood baths, criminal score-settling, militant atrocities and the bloody rivalry among the city's ethnically divided political parties.
Activists from the Muttahida Qaumi Movement, the city's most powerful and muscular political party, led cleanup efforts at the stricken factory on Thursday.
Karachi's ambitions have also been thwarted by the faltering authority of the local or federal governments, which have failed to enforce the most basic workplace standards.
In theory, Pakistan's laws offer strong protections to workers, but application is notoriously weak. In textiles, which account for 53 percent of exports, employers routinely sidestep health and safety regulations through bribery and corruption.
"The state inspectors can make a lot of extra money," said Sharafat Ali, an activist with the Pakistan Institute of Labor Education and Research, which has documented abuses in the textile industry. "They have lifestyles that go beyond their wages."
The lack of regulation was apparent inside the factory, which contained space for fire extinguishers that had failed and directions to emergency exits that were locked.
"There was no safety in there, no fire equipment," said Khwaja Sohail Mansoor, a local lawmaker, who stood near a fire truck outside the factory.
Survivors of the blaze said rule-breaking was the norm at the plant, where many worked 12-hour shifts and were paid as little as $58 per month — one-third less than the statutory minimum.
German-language labels on bundles of denim that survived the blaze carried a brand named "Okay Men." And workers at the factory said they had been forced to lie about their working conditions to auditors representing foreign buyers.
Hafeeza Bano, a 35-year-old with burn wounds on her leg and arm, said she had to misrepresent her working hours and pay or face the threat of dismissal. "The owners were very cruel, and very greedy," she said.
Those men — identified as Abdul Aziz, Mohammad Arshad and Shahid Bhaila, and sought for arrest — have yet to be found.
A thread of outrage ran through news coverage. "Hundreds saw hell on Earth" read the banner headline in Dawn, the leading English-language paper.
On Thursday, the Sindh Province labor minister resigned. Hours later, the government announced that a retired judge would lead an investigation tasked with delivering initial findings next week. But few here believed it would amount to much.
"We need to do more than change the faces — we need to change the policies," said Farida Bibi, who lost her 26-year-old son. "Then we need to hang the men who owned this factory."
Alarmed at the wave of public anger, other textile manufacturers sought to distance themselves from their actions.
"We are shellshocked by what happened, and these people need to be held accountable," said Shehzad Saleem, chairman of the Pakistan Garment Exporters and Manufacturers Association. "But everyone needs to calm down and let the investigation take place."
The Muttahida Qaumi Movement called for three days of mourning, but the city is expected to be back on its feet soon. Karachi's resilience is a point of pride, and normal life, of a sort, has tended to quickly resume after floods and bombings.
But Parween Rahman, the head of a major aid project in Orangi, the city's largest slum, said that resilience may be a product of circumstance as much as a triumph of the human spirit. "Where do they go? They have to live their lives. They have to survive," she said. "They have little other option."