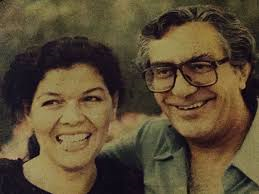 ISLAMABAD, Dec 30: An unassuming and calm-looking Aslam Azhar, once he was off his job, led a peaceful life in a serene (rented) house off the Margalla Road in Islamabad, away from the glamour and gabble of the city. The octogenarian exuded a strange satisfaction, eyes beaming and face aglow with a faint smile when I met him for an interview (which lasted for about an hour) in November 2014. "Looking back, I am pretty pleased with myself," he stated, his deep voice echoing across the room.
Aslam passed away on Tuesday, after undergoing prostate surgery last month. The 83-year-old leaves behind two sons, Usama Azhar, Arieb Azhar and a daughter Umaima Azhar. His wife Nasreen Azhar is a renowned human and women's rights activist.
A recluse that he was, after spending an eventful life in the world of broadcast he had retreated to his favourite world of books. He was an avid reader of the history of civilisations and anthropology. He owed his love for words and books to his father AD Azhar who was a government servant in British India. Those who knew Aslam, told me he does not meet people unless it becomes extremely unavoidable. True it was; he seldom spoke to the media.
Born in September of 1932, in his early 30s the legendary broadcaster was heading the nascent PTV. He well deservedly had many firsts to his name in the history of broadcasting in the country. Throughout his career, Aslam remained associated with radio and television in coveted positions till the end of Benazir Bhutto's first government in 1990, except for the 10 years when Ziaul Haq ruled. Yet he had no wish to pen any memoirs. He was content with the recordings conducted by PTV for its archives and sundry interviews by the print media. Think what you will.
Azhar did his Bachelors from Government College University, Lahore. He for a brief period after completing his Masters from Cambridge University in 1954 served with Burma Oil Company. A man of many talents who soon realised his muse lay elsewhere; he joined the government's department of films and publications.
Around that time the then president Ayub Khan and his information secretary Altaf Gauhar were exploring options to bring the 'magic box' to Pakistan to propagate the agenda of the government. For this purpose, they were in negotiations with various international companies.
It was November 26, 1964 when the Japanese Nippon Electric Company (NEC) started a three-month pilot project in the lawns of Radio Pakistan, Lahore. Aslam, the man who had experience of both theatre and broadcasting, was the first choice to helm the project. The government being apprehensive of the success of the project asked NEC to bear all the expenses, which it would reimburse only if the project turns out to be a success. With Aslam and his team in charge, the government soon had to write a cheque for the Japanese.
Former federal secretary I A Imtiazi in the book This is PTV: Another Day, Another World, writes that Aslam "was the real founding father of PTV who gathered a team of raw persons and taught them to write, present and produce programmes skillfully."
For Aslam, surprisingly enough, the governments of Ayub and Yahya Khan were less interfering. Advertisements were rolling in at a steady pace and he had reasonable amount of editorial independence. He made a conscious effort to introduce folk singers like Tufail Niazi and Saeen Akhter, in his own words, to bridge the gap between the urban and rural population, and started shows for the youth.
He also remembered the time when Ayub was obsessed with celebrating the "so-called decade of development". He had admitted he was compelled to do a series of propaganda programmes but was quite happy to see the people, despite all the propaganda, "throw him out eventually".
People were absolutely delighted to see the faces of those they had heard on radio, Aslam had recalled during the interview. He established television stations in Karachi, Lahore and Quetta, bringing quality programming and latest equipment. He had to his credit, among other initiatives, the first PTV award ceremony, 1982-83's Music 89, marathon transmissions on 1970 elections and the Islamic Summit held in Lahore.
When BBC's David Frost visited Pakistan in 1970, Aslam along with Yasmin Shahid Hasan and Shoaib Hashmi interviewed him. Frost was famous for his show Face to Face. Aslam produced a similar program named Roobaroo, hosted by Mohsin Sherazi, which became quite popular. Khuda ki Basti and many other plays got a new lease of life under his able leadership.
As the first professional managing director of PTV between 1971 and 1976, he established the Peshawar and Quetta centres in a record three-month time. Before the 1977 elections, realising that Aslam would not do his bidding; Zulfikar Ali Bhutto transferred him to the less lucrative PTV Training Academy.
Later with Zia on the saddle, Aslam had to move to Karachi where he started Dastak Theatre group to highlight issues of the working classes. Short plays on social themes relating to workers, students and women were adapted, translated and performed for the workers' communities.
During the first government of Benazir, Aslam was appointed chairman of both Pakistan Broadcasting Corporation (PBC) and PTV. During the chairmanship he gave clear instructions to all stations to be impartial and unbiased, supported unionism and encouraged programming in regional languages. Benazir was soon sent packing and so was Aslam; he was accused of bringing back liberalism to broadcasting. That was curtains for his professional career.
The soldier's soldier
He sided with the left, at least ideologically if not practically. "My father always stood for and worked towards the ideals of the left," said Arieb. In the early days of PTV, Arieb recalled, he was much respected by the workers' union because he always considered himself a man of people. He refused to have an AC installed in his room until the whole building was provided with adequate air conditioning.
He who established television in Pakistan, did not watch it during his last years. "In television everything is there whereas in a book a reader can use his imagination. With a book the brain grows; with television it just becomes stale." Aslam had said mediocrity is built into the medium. "It is severely limited due to its dependence on money. A writer only needs a pen, a painter a brush but TV needs money," he had said.
However, in the same breath, he defended the broadcasting of today, saying a comparison with old times is not fair as in those times people only bought what was needed whereas today's is more of a consumer society. "He who pays the piper, calls the tune. Why worry about it?"
In recognition for his services, the government conferred upon him Tamgha-e-Imtiaz in 1968.
Renowned playwright Munnu Bhai reminisced the day he wrote his first play for the 1965 war on the insistence of Aslam, saying he had finished writing it in half an hour.
He said Aslam was a man of vision and the right temperament needed to undertake such a big project. "He in a very short time established the Pakistani drama. India showed our plays from those times in their acting academies. He used to tell us that drama is about reaction and not action. Elaborating further, he would say a joke becomes a joke only if people laugh. Merely telling a joke does not make it so," recalled Munnu Bhai.
Long ago, on an email group condoling someone's death, Aslam had written, "The world is rich that she has lived." Something, that aptly applies to the gentleman himself.