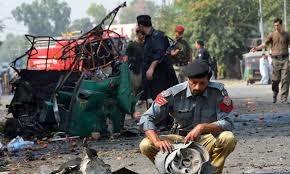 PESHAWAR, Oct 2 — Amid a wave of bombing attempts in this northwestern Pakistani city on Thursday, a bomb rigged to a timer exploded inside a passenger van, killing seven and wounding six, the police said.
Although the attack was the only one of eight attempted bombings to succeed here, the police said, the mass of attempts pointed to a concerted effort by militants to intensify their attacks on government targets.
"The bombs were intended to destroy an electrical tower, and to target police and a convoy of the law enforcement agencies," said Shafqat Malik, the head of the Peshawar bomb disposal unit, noting that the bombs all had "a level of sophistication."
"The bomb that went off was to target civilians. Imagine what would have happened, had they all gone off," he said. "Today was the worst day in my professional career."
The van that was bombed was set to carry passengers to Parachinar, the main town in the Kurram tribal region.
In an interview, a policeman investigating the case, Ejaz Khan, said that a man had left two bags in the van, then asked the driver to wait for him while he went to bring more passengers. The bomb, with roughly 10 pounds of explosives, went off after he left.
Although Kurram has in the past been a center of sectarian violence between Sunnis and minority Shiites, police officials said it was more likely that the bombing was a randomly chosen terrorist act rather than a targeted killing.
"People are heading home for Eid holidays," Mr. Khan said, referring to the Eid al-Adha festival this weekend. "There is a lot of rush. No one could have known which passenger was heading where."
A senior police superintendent, Najib Bhagvi, suspected that Pakistani Taliban militants were behind the attacks. That organization, along with some of its allies and splinter groups, has come under increasing pressure since the start of a military offensive against militant bases in North Waziristan in June.
"Peshawar is heating up, and this is the blow back of the operation in Waziristan," Mr. Bhagvi said. "All the terrorist outfits, including Al Qaeda, have joined forces and are hitting back."
Peshawar has seen a surge in militant attacks this year, particularly against the police. Twenty-five policemen have been killed since January, including a police inspector who was shot dead outside his house on Thursday.
Mr. Malik, the bomb squad commander, worried that more attacks were sure to come. "Tough days are ahead," he said.