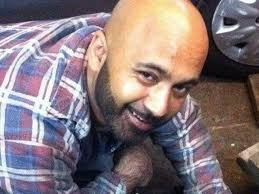 A man who treated his wife as a slave and subjected her to "physical and mental torture" has been jailed for two years.
Safraz Ahmed, 34, is the first Briton convicted of forcing their wife in to domestic servitude.
Ahmed initially denied the offence but changed his plea to guilty.
He and his wife, Sumara Iram, married in 2006 in an arranged marriage in her home city of Gurjat, in the Pakistani state of Punjab.
When she came to the UK in 2012, she was forced to carry out endless chores for her husband, who subjected her to vicious beatings.
Woolwich crown court heard he would throw tins of cat food at her, send demeaning text messages and told her she should jump in front of a moving car or in a river.
To keep her isolated, she was locked inside the house and her mobile was confiscated. Ahmed further humiliated her by making her wash in the garden.
The deplorable conditions continued for two years, only coming to light when neighbours became suspicious.
After a brutal attack in February 2014, in which Ahmed broke her nose, Ms Iram ran into the street, fearing for her life. Neighbours spotted the injured woman and witnessed her being dragged back into the house.
Despite the police being called, her lack of English meant she was unable to lodge a formal complaint. Her husband was released from custody. Six months after the attack, she took an overdose of painkillers in an attempt to take her own life.
Ms Iram suffers from post-traumatic stress disorder and claims the experience "ruined her life".
Ahmed will now serve two years for enforced domestic servitude and eight months for causing actual bodily harm by breaking his wife's nose. Both sentences will run concurrently.
Damaris Lakin, a lawyer for the Crown Prosecution Service, said: "This is a ground-breaking case which demonstrates how far we have come in tackling modern-day slavery. We believe this is the first conviction in England and Wales of a husband for holding his wife in servitude.
"After moving to the UK in 2012 to live with her husband it did not take long before the victim's dream of a loving family life was shattered as she realised that she had been brought to the UK only to be a servant.
"She was treated with complete contempt by the defendant who responded to her requests for affection with physical assaults and verbal abuse. She was isolated from the world, allowed only very restricted contact with her family and was not allowed to leave the house unaccompanied.
"The CPS is committed to working with the police and other partner agencies to bring the perpetrators of modern day slavery to justice and support victims to help them through the prosecution process and beyond in the hope that they can rebuild their lives."