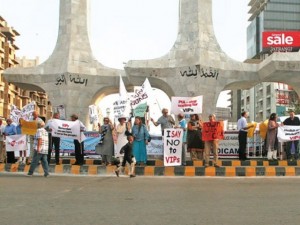 KARACHI, Sept 30: "VIP culture is a disease that has been inflicted upon us," screamed an elderly man. "Don't use such polite words for these vultures," he told a young man, Dr Jahanzeb Effendi, who had been explaining why a group of around 80 young professionals and old-timers had taken to the streets to raise their voice against the status quo.
The protesters, armed with placards and banners, all screaming their resentment of the VIP culture, stood on the pavement of the landmark, Teen Talwar at around 5pm on Monday. They were ordinary citizens, giving voice to the millions who wish to fight the 'Guns and Goons' cult that has taken the country by storm. Each time a VIP motorcade passed the roundabout, the protesters shouted: "Shame, Shame"; rants that were met with cheeky, nonchalant grins from the armed escorts of the very people they were protesting against.

"We are sick and tired of bowing down in front of these vermin," said Zafar Alam. "They will have to listen to us. Ehsaas," he said, placing much emphasis on the last word. "Hundreds of people are killed in the city each day and these so-called elected representatives of the same victims roam around in their flashy cars with their 50-vehicle escorts."
Sharmeen Usmani, the wife of a sitting Supreme Court judge, spoke from experience. She claimed she declined security escorts whenever she travelled. "I hate these guards screaming at people to move away from my vehicle whenever we are driving somewhere," she said.
For Usmani, VIP culture had transcended into every aspect of Pakistani society. "It has so deeply ingrained into our psyche that we have come to accept it as part of our daily lives." Only in Pakistan will you see an ambulance waiting for a VIP motorcade to pass, chipped her friend. Speaking from her knowledge of judicial affairs, Usmani lamented that laws were modified and altered to perpetuate the status quo. "These modified verdicts then set a precedent which are used later to benefit the VIPs again and again. What future are we leaving for our children?" she cried.
A retired naval officer, who identified himself as Captain Farooq, was also part of the protest. The elderly gentleman chose to speak about the ideological stance of the protest. "Remember: Evil prevails not because of the bad people but because of the silence of good people," he said to the nods and murmurs of his compatriots.
Perhaps the most interesting feature of the protest was the innovative taglines inscribed on the placards and banners. It was obvious these posters had been given much thought. For example, the acronym, VIP, now stood for various connotations, such as as 'Vultures in Pakistan', 'Vermin in Pakistan' or 'Very Incompetent People'.
These protesters came out of their comfort zones to demand an end to the status quo. They were ordinary citizens; their agenda is to end the preferential treatment for anyone with a little money or clout. "We will not be slaves to the status quo anymore," resolved one protester, Mahrookh, who described herself as the 'mahrookh of Karachi-gone'. "We want the law to be equal for all citizens, irrespective of wealth or status."
Clifton SHO Ghazala, who had by this time arrived at the scene of the protest, was all smiles for the protesters. She refused to comment, saying if she spoke her mind, her superiors would be displeased with her. The SHO did say, however, that in an ideal world, everyone would be equal before the law.
Shamma, one of the protesters, realised it would be a long and arduous journey before the mindset changed, but said it did have to start somewhere. "This is a start. One can only hope it goes on to achieve something," she said, wistfully eyeing the traffic warden as he stopped the oncoming traffic for a motorcade to pass through.
The warden, Talat Mehmood, personified everything the protesters spoke against. "It is these government officials that pay us. It is our duty to serve them; to make way for them," he said proudly.
On the hour, the protesters carefully folded their placards and made their way to their waiting cars. Thus ended the peaceful demonstration, but not before they pledged to return the next week, with even more people, to continue their struggle for the rights of the common citizen.