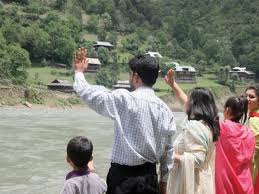 KERAN, June 10: Hundreds of Kashmiris on Sunday staged an emotional demonstration on the banks of a fast-flowing river to urge India and Pakistan to withdraw troops from the disputed Himalayan region.
On the Pakistani side, tearful relatives waved across the gushing Neelum – which separates the two countries – to their family on the Indian side, using loudspeakers to try to speak to them, an AFP photographer said.
But the deafening roar of the river – about 200 feet wide at the village of Keran – was too loud for the cries to carry across to the Indian side.
About 600 men and women gathered by the river in Keran, about 90 kilometres northeast of Muzaffarabad, the capital of Pakistan-administered Kashmir. Many migrated to Muzaffarabad in 1990 to escape violence.
The gathering, called by nationalists, was a rare occasion – the authorities do not normally allow such events on the river.
For Ashraf Jan, who left her mother and father to come to Muzaffarabad with her aunt in 1947, it was almost too much.
Overwhelmed with emotion, the 70-year-old had to be stopped by relatives from jumping in the furious river to try to reach her ageing parents on the Indian side.
"Let me go. I just want to see my parents and after that if I die, I will be in peace," she said.
Indian police and military did not allow Kashmiris on the other side to come near the river bank and they were left to wave from a distance.
Kashmir was split in the aftermath of independence on the subcontinent when British rule ended in 1947. Both India and Pakistan claim the entire territory, which is divided by a heavily militarised Line of Control (LoC).
The LoC is heavily guarded on both sides and strictly off-limits.
Though Kashmiris can cross the border via a special bus service started in 2005, it requires lengthy clearance procedures at both sides, meaning few go.
Arif Shahid, president of the pro-independence Jammu Kashmir National Liberation Conference, urged India and Pakistan to divert their military spending to help poor people in both countries.
"India and Pakistan are wasting money on arms when millions of people have to sleep without any meal every night. They should withdraw troops from Kashmir and liberate us so that they are able to work for the welfare of their citizens," Shahid said.
There are nearly a dozen Kashmir militant groups fighting for the divided Muslim-majority region to become part of Pakistan and over 47,000 people have been killed since the outbreak of a separatist insurgency in 1989.
But militant violence has dropped sharply in Kashmir since India and Pakistan started a peace process in 2004.