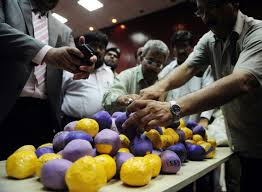 THE HAGUE: European police on Monday said they had arrested over 500 suspects and seized over 2.8 tonnes of cocaine and hundreds of vehicles in a series of raids against organised crime.
Europol said that operations targeted high-volume trafficking in cargo containers, drug couriers flying to Europe from South America as well as drug parcels sent to Europe from Pakistan and Afghanistan "on a daily basis."
Police from all 28 European Union countries and elsewhere carried out the raids in 260 locations between May 4 and June 24 as part of Operation Blue Amber, the pan-European policing agency said in a statement.
Police and customs confiscated 390 vehicles and seized nearly 1,300 tonnes of stolen metal as well as 110 kilos of heroin, it said.
"The concealment methods vary greatly, from hiding cocaine in clothes and shoe insoles, to caching heroin in medical instruments," it said.
The operation also led to the arrest of "several" people smugglers and the discovery of a safe house for illegal migrants in Hungary.