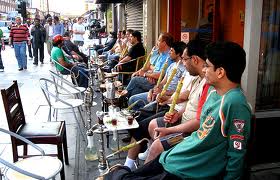 When I first moved to London, an Italian colleague at the American law firm where I then worked told me that "in Central London, the Americans live in Chelsea, the Italians in Knightsbridge, the French in South Kensington, the Australians in Earl's Court, and the Arabs in Mayfair."
"Where then do the English live?" I had asked.
"Zone 3 and beyond," he responded, referring to the London underground tube map, where stops in zone 1 represent the most central locations, followed by zone 2, and so on.
Of course, his description of central London was a bit of an exaggeration but there is little doubt that recent immigrants make up an increasingly large proportion of London's cosmopolitan centre.
Within this amalgam of cultural diversity, one street stands out more than any other.
Edgware Road – home to a myriad of Lebanese restaurants, doner kebab outlets, shawarma stands and halal butchers on every corner – is the focal point for much of central London's Muslim population (which stands at 12.4 per cent as of the 2011 census).
Although Edgware Road is located in the borough of Westminster which is the only borough of London's 33 boroughs where Arabic is the most commonly spoken language other than English; walk up and down the street and you are as likely to hear Kurdish, Farsi, Urdu, Pashto and Punjabi.
There may be nothing unusual about immigrant communities concentrating in certain areas of today's global cities, enhancing them with diverse cuisine and culture. But what is unique about Edgware Road is that it is located so close to the heart of London, smack-dab in the centre, intersecting the iconic Marble Arch and famous Oxford Street, and simply moments away from Buckingham Palace.
If one were to compare, perhaps, Chinatown in San Francisco may have a similarly prominent location but other ethnically-rich and diverse areas in the West often tend to be further away from city-centres.
Certainly, this takes a fair bit of tolerance from the indigenous population, permitting a cultural take-over of sorts, of prized central real estate, as it's not just exotic food that is enriching Britain via Edgware Road, but also impromptu Quran recitations freely broadcast in some of the stores and Ashura processions mandating traffic diversions on the 10th of Muharram.
But, perhaps, such is the beauty of a liberal democracy coupled with a free-market economy.
The makeup of Edgware Road and its impact on central London could not have been feasible without the international jet-setters who were able to buy several properties in this key location and give it the cultural feel that they desired. Nor could it have been possible without the working immigrants who toil at the grocery stores, butchers, and restaurants that make this truly international experience possible.
This is not to suggest that there is no resentment on the part of the locals.
I was once told that properties adjacent to "Downtown Dubai" (as Edgware Road is derisively called sometimes) would only attract a certain kind of buyer, suggesting the well-heeled gora, or perhaps also his wannabe desi counterpart, who would never contemplate living in the vicinity.
The politically-charged religious fervour at times also leads to reactions as during Ramazan, while the Pakistani restaurants went into over-drive advertising iftaar sherbets and some Arab ones put up "Free Gaza" placards, a group of locals regularly lined the street to distribute free Bibles in Arabic. Nevertheless, this freedom of expression has not as yet resulted in any significant clash.
To the contrary, Edgware Road delights tourists and locals of all colours, particularly on summer nights, when the street truly comes alive.
Unlike Paris, Rome, Madrid, New York or Los Angeles, London, apart from its busy clubbing scene and the drunks loitering about in Leicester Square, tends to shut down early. Except Edgware Road, where even the pharmacies are open till midnight.
The overwhelming Muslim population that frequents Edgware Road ironically likes to party as much as it likes to pray.
And thus a post-dinner walk down Edgware Road provides good entertainment for those of us who grew up in warmer climates and feel more alive once the sun sets.
With Arabic music blaring from an assortment of over-priced pedicabs, fully hijabed passengers dancing to disco-like beats, roadside cafes and sheesha bars full of people-watchers and families out and about well past midnight, comfortable in the knowledge that they are more or less secure on this street.
It is a nostalgic, if unfortunate, scene that depicts what tourists from Egypt, Nigeria, Pakistan, Saudi Arabia or Algeria love about Edgware Road. It provides them with a cultural ease, coupled with the freedom to exercise simple pleasures which, for different reasons, have become unthinkable in their home countries.