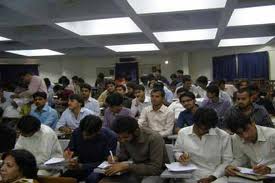 WHAT are the qualities — in terms of scholarship and character — that one should seek in the head of a university if it is to be run competently and produce excellence in education?
Inarguably he must, above all, inspire his students so that he can lead them with his moral strength and knowledge. Considering the fact that many of our universities are in a state of crisis today, it is time we looked at the leadership factor to determine what has gone wrong.
Sindh University presents itself as a perfect example of how poor leadership can destroy an institution of higher education. There has been unrest at the campus at Jamshoro since January when a teacher was murdered. The protest is directed against the vice chancellor, Dr Nazir Mughal. When he was dispatched on 'forced leave' in February and his controversial orders dismissing some faculty members withdrawn, a semblance of peace was restored and classes resumed.
Yet all was not well at Jamshoro, because stopgap solutions do not resolve problems. Last month Dr Mughal was back and there has been trouble again. Immediately after his return the vice chancellor announced summer vacations and the examinations that were in progress were disrupted. Soon thereafter a really heinous crime occurred. Two professors — Amar Sindhu, who received bullet wounds, and Arfana Mallah, the secretary general of the Sindh University Teachers' Association (Suta) — were attacked. Masked gunmen opened fire on them, giving rise to widespread anger. It was plain that those in power were trying to eliminate the VC's two most vocal critics.
What is at the root of this crisis? The fact is that Dr Mughal does not enjoy the confidence of the faculty. There are serious charges against him. In a petition filed before the Supreme Court, Marvi Memon, a former Senator, has listed a number of them.
They range from the absence of transparency in his appointment in 2010 to his failure to keep peace on campus. Two students and a teacher have been murdered in the last two years. Allegations of corruption, embezzlement and other malpractices have also been levelled.
Meanwhile the vice chancellor has kept himself in office by manipulating pro-PPP student groups. As a champion of the ruling party's interests he also enjoys the support of political patrons who need compliant and subservient subordinates in critical positions. Since student unions remain banned from Gen Zia's days, there is no way of knowing where the youth stand on the issue.
All this has affected academic standards while charters have been granted with abandon to institutions with dubious credentials. Instead of universities being cradles of research and intellectual regeneration, they are stagnating. The powers that be have clamped down on students to prevent original thinking that could challenge the status quo.
Dr Mughal had earlier served as vice chancellor of Sindh University from 1995-98 and was reappointed quite arbitrarily in 2010 because of his connections in the right quarters. That was a slap in the face of education in Pakistan considering that his credentials are not impeccable. A committee appointed after his last dismissal in 1998 had recommended disciplinary action against him. In his last tenure he was removed when a student was killed on campus and there was widespread public agitation.
The Suta has now issued a white paper that levels 24 charges against the vice chancellor. Some of them cast doubts on his eligibility for the post he holds today. His association with two educational institutions with foreign links is said to have kept him away from Sindh University, where he was first appointed in 1974 but never confirmed as his presence there was minimal.
The white paper meticulously records photocopies of bills and memoranda in support of corruption charges ranging from financial embezzlement to academic malpractices such as allowing students with zero attendance to appear in examinations, nepotism in the appointment of teachers and the sale of teaching positions. It calls for an independent enquiry.
What is, however, most serious is the fact that the vice chancellor's relations with the faculty are adversarial and militate against healthy academic activity. The rise in violence at Sindh University — 235 FIRs have been registered since 2010 — is disturbing. Attacking teachers is no solution when matters have reached such a state.
While it is a matter of serious concern that the students of Sindh are being denied a good education and their academic life stands disrupted, the wider implications of the troubles in Jamshoro are grave. Marvi Memon spoke of the vice chancellor's role being indispensable in facilitating the election of MNAs (said to be 23 in number) who have suspect degrees from Sindh University. She requested the Supreme Court to ask the Higher Education Commission to verify their degrees. This has not happened.
What is happening in Sindh's universities can at best be described as the politicisation of higher education to facilitate the perpetuation of a party in office. If the axe falls on MNAs who support the present government, that would be destabilising for it. Schools have already been used to consolidate the power of those in office by planting their henchmen in educational institutions. Universities are also being used for the same purpose even though this practice has been deemed illegal by the Lahore High Court in the case of the appointment of the vice chancellor of the University of Health Sciences, Lahore and others.