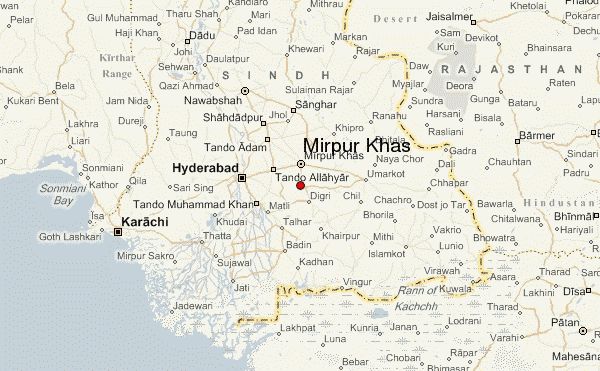 MIRPURKHAS, July 15 — In a country roiled by violent strife, the southern province of Sindh, celebrated as the "land of Sufis," has long prized its reputation as a Pakistani bastion of tolerance and diversity.
Glittering Sufi shrines dot the banks of the river Indus as it wends through the province. The faithful sing and dance at exuberant religious festivals. Hindu traders, members of a sizable minority, thrive in the major towns.
But as Islamist groups have expanded across Pakistan in tandem with the growing strength of the Taliban insurgency, so, too, are they making deep inroads into Sindh. Although banned by the state, such groups are systematically exploiting weaknesses in Pakistan's education system and legal code as part of a campaign to persecute minorities and spread their radical brand of Sunni Islam.
The growth of the fundamentalist groups, many with links to armed factions, has been alarmingly rapid in Sindh and has brought violence in its wake, according to police officials, politicians and activists. In recent months, Hindu temples have been defaced, Shiite Muslims have been assaulted and Christians have been charged with blasphemy.
A central factor in the expansion of such groups is a network of religious seminaries, often with funding from opaque sources, that provides them with a toehold in poor communities. "If there were three seminaries in a city before, now there are tens of seminaries in just one neighborhood," said Asad Chandio, news editor of the Sindhi-language newspaper Awami Awaz.
In May, a threatening crowd in Mirpurkhas, a small city in central Sindh, surrounded four members of the Jehovah's Witnesses who had set up a stall near the railway station. The mob accused the four of blasphemy because they were selling books that contained images of God and Moses. The crowd's leader was a member of Ahle Sunnat Wal Jamaat, a sectarian group that is ostensibly banned by the government, but that is now openly operating, and growing, across Sindh.
Fearing crowd violence, police officers led the four to a nearby police station where they were charged with blasphemy — potentially a capital offense. They were taken away in an armored vehicle, and are now in hiding as they await trial.
Locals said they were struggling to understand how, or why, the incident had taken place. "There are so many communities here, and we have all lived peacefully," said Francis Khokhar, the lawyer for the four accused.
The Sunni supremacist ideology propagated by Pakistani sectarian groups is similar to the one that is proving so potent in the Middle East, where the Islamic State in Iraq and Syria, or ISIS, is flourishing. In Pakistan, such groups do not pose a direct threat to the state yet. But their growth in Sindh is a sobering reminder that a future threat to Pakistani stability could stem from the provincial towns as much as the distant tribal belt, where the Pakistani military is trying to disrupt havens for the Taliban and other militants.
Ahle Sunnat Wal Jamaat, the group behind the blasphemy charges in Mirpurkhas, sprang from a small town in Punjab Province about 30 years ago, capitalizing on local sectarian and political divides. Once known as Sipah-e-Sahaba Pakistan, it has grown into Pakistan's dominant vehicle for Sunni sectarianism, trafficking in hatred against Shiites to win popular and political support.
It has been banned several times — first, in its incarnation as Sipah-e-Sahaba, and in 2012 in its present guise. Still, that did not stop its leader, Maulana Muhammad Ahmed Ludhianvi, from running for Parliament last year. This year, an election tribunal disqualified the winner and gave the seat to Mr. Ludhianvi. The case is in litigation now.
The group also has longstanding ties to the ruthless militant group Lashkar-e-Jhangvi, whose militants have killed hundreds of Shiites in Baluchistan and Karachi in the past two years. Malik Ishaq, the leader of Lashkar, is also a vice president of Ahle Sunnat.
Now Ahle Sunnat is on a recruitment drive in Sindh. While it was traditionally centered in Karachi and Khairpur district, about 200 miles to the north, it now has signed up 50,000 members across Sindh, about half of them outside Karachi, said a spokesman, Umar Muavia. A key to its success is an expanding network of 4,000 religious seminaries that offer free classes and food to students from impoverished families.
"We give them a religious education," said Hammad Muavia, a spokesman for the group in the Khairpur district. "We feed and house them, and provide them a bursary that goes to their families. We even pay for their medical expenses. We take better care of the students than even their own parents."
In part, Ahle Sunnat is exploiting the chronic weakness of Pakistan's education system: Over 3,000 state-run schools in Sindh are not functioning, and those in operation frequently offer a dismal quality of schooling. Less clear are its sources of income. The group says it raises funds from local businessmen and the community, but critics say it is principally funded by Saudi Arabia.
"Yes, sometimes if there are clerics from Saudi Arabia visiting Pakistan, they contribute to us," said Mr. Muavia, the Khairpur spokesman. "But there is no relationship with the Saudi government."
The link between madrasas and militancy is often debated by experts; some point out that Pakistan's most famous jihadi commanders have been educated not at madrasas but at state-run schools. What is clear, though, is that the madrasas offer groups like Ahle Sunnat a toehold from which to project themselves into the community and expose more Pakistanis to sermons that sometimes veer explicitly into incitement of violence against Shiites and other minorities.
The group is also using the contentious blasphemy law to cow its enemies. Mr. Chandio, the newspaper editor, said his newspaper received threats from Ahle Sunnat after he published photos of the group's activists attacking a police van during a blasphemy case.
Mr. Muavia, the Ahle Sunnat spokesman in Khairpur, said he had filed several blasphemy cases, but, to his disappointment, the police had rejected them. "The Pakistani government is outraged when blasphemous acts against Prophet Muhammad take place abroad, but does nothing when they happen at home," he complained.
Other Sunni groups are also expanding in Sindh. Jamaat-ud-Dawa, a charity that the United States recently designated as a front for the terrorist group Lashkar-e-Taiba, has a network of seminaries and carries out relief work during natural disasters. Its leader, Hafiz Saeed, regularly tours Karachi and other major cities in Sindh, evidently unbothered by a $10 million American bounty for his arrest.
Also expanding is Jamiat Ulema-e-Islam, led by Maulana Fazlur Rehman, a conservative politician from northwestern Pakistan. The group held two of the largest political rallies in the province in recent years.
Since March, the police have recorded 12 attacks on Hindu and Sikh temples across the province, said Iqbal Mehmood, who until recently served as the provincial police chief. Separately, Hindu leaders have accused Muslim groups of trying to forcibly convert Hindu girls to Islam.
Across Pakistan, Shiites have been subjected to "an alarming and unprecedented escalation in sectarian violence," Human Rights Watch recently noted in a report on attacks on ethnic Hazara Shiites in western Baluchistan Province, which adjoins Sindh.
Some officials say the groups have flourished in part thanks to the turning of a blind eye by provincial politicians — mostly from the Pakistan Peoples Party that has dominated Sindh's politics for decades — and the tacit support of the military and its powerful spy agency, Inter-Services Intelligence.
During the 1990s, Lashkar-e-Jhangvi "enjoyed a close relationship" with the military and ISI because it was assisting with the fight in Indian-controlled Kashmir, said the recent Human Rights Watch report. For its part, the military denies that it is supporting militant groups.
"These groups don't come up naturally; they are provided backing by the state," said Mr. Chandio, the newspaper editor. "They can protest anywhere, and close down a city if they want. But when they hold rallies in support of the army and the ISI, they've proven who supports them."
Saba Imtiaz reported from Mirpurkhas, and Declan Walsh from London.