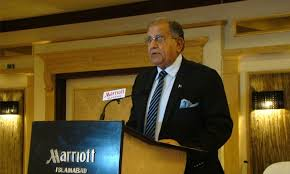 ISLAMABAD, Jan 25: Federal Minister for Inter-provincial Coordination (IPC) Riaz Hussain Pirzada has accused the Saudi government of creating instability across the Muslim world, including Pakistan, through distribution of money for promoting its ideology.
Addressing a two-day 'Ideas Conclave' organised by the "Jinnah Institute" think tank in Islamabad, the federal minister said 'the time has come to stop the influx of Saudi money into Pakistan'.
He also blasted his own government for approving military courts in the presence of an 'independent and vibrant judiciary' and said that military courts reflect 'weak and coward leadership'.
"Such cowardly leadership has no right to stay in power," Pirzada added.
In her opening remarks, Chairperson of Jinnah Institute Sherry Rehman said that the two-day conference would deliberate upon new ideas needed for a progressive and better Pakistan.
Pakistan Tehreek-i-Insaf (PTI) leader Shafqat Mehmood said the government has failed to address the problems being faced by the common man.
Awami National Party (ANP) leader Afrasiab Khan Khattak expressed regret over military courts and said their establishment 'has eroded democracy'. He called upon democratic elements to play their role in reversing the 21st constitutional amendment.
Muttahida Qaumi Movement (MQM) leader Farooq Sattar supported military courts and said there was no other option to deal with terrorists.
The Federal Minister for Commerce Khurram Dastgir while addressing the conference, said that for an elected government to deliver, they need at least a modicum of security that their leadership will exist tomorrow.
He said that lawmakers have little incentive to read legislation. They are judged by their constituents on how much patronage they can deliver.
"We are answerable to the people. No general would stand up here and take your criticism," said Dastgir.
He further added that there is no excuse for not holding local body elections.