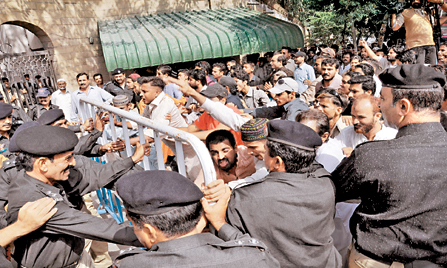 Karachi, March 19: "In our profession, we don't look at whether we're strong, but if the other party is able to pay up," says I*, with a 9mm pistol in hand, as he sits outside his apartment in District East. "This is give and take. No one is doing a favour. We ask for money to spare someone's life and they pay up for the same reason. It's a simple formula."
Becoming an extortionist in Karachi is the easy way out to not just bankrolling a political party's operations but also to rise in the murky hierarchy of criminal operations in Karachi.
Small-time criminals with no affiliation to gangs or political parties can easily call someone up, say that they are from so-and-so party or gang and make an extortion demand. Their entry into the city's criminal operations has complicated how extortion works in Karachi, since it has become difficult to identify where the demand is actually coming from.
Instead of relying on other sources, every gang and criminal group in town is extorting money to be able to meet its budgetary needs. Almost all political and nationalist parties are involved in extorting money in Karachi, say observers. By one estimate, over Rs50 million is collected from traders, businessmen, shopkeepers, industrialists, factory owners and construction companies in Karachi, relying on a tried-and-tested formula of blackmail or asking for a 'donation' or 'protection money' on a daily, weekly or monthly basis.
They are assisted by a network of employees, relatives, guards and drivers, and use cell phones, verbal demands conveyed by boys on motorcycles and written slips of papers to convey their calls for money. There is also a system of surveillance in place, so traders are told of where their children go to school and what their family members are up to so that they know that the extortionists are keeping an eye on them.
A*, who works at a textile mill in SITE, is one of the many victims of extortionists.
"I had to stop going to the office for a few days. If I didn't have anyone to support me I would have gone crazy," he said.
Extortionists are known to call up traders and industrialists with their demands. While A never paid up, he was convinced that someone from his inner circle had provided his details to criminal groups.
Others have paid up or negotiated the amounts asked for them. According to one account, the amount can be discussed and brought down. Others have just shifted their families to other cities or countries.
Those targeted by extortionists play a cloak-and-dagger game, changing vehicles and cell phone numbers to escape their insistent calls.
The police also help traders deal with extortionists and advise them to negotiate. One industrialist, who spoke on condition of anonymity, said that he shifted his family abroad because he was convinced that they would always use them as a way to get to his cheque book.
Sindh Home Minister Manzoor Wassan and police officials have said that extortionist groups are not new to Karachi. But while it was once easy to know who was behind that mysterious phone call asking for hundreds of thousands of rupees, Karachi is far more complicated now with the myriad groups operating throughout the city, and those using their names to inspire fear in their victims.
Resistance isn't a strategy either. Over half a dozen traders in Karachi, especially in the South district, have been killed for refusing to pay up.
Problems have also emerged with different groups battling out for turfs.
Paying extortion doesn't mean the other group won't approach you for money, and this has also seen a decrease in share for groups that were traditionally the sole operator in extortion. In some areas, the turfs are neatly demarcated and work with mutual understanding, given the political deals between the groups' leaders or parties. But with the involvement of criminal groups with no political affiliation, a turf war has emerged and results in a renewal of target-based killings.
But there is no one to turn to. The police have been deemed as being ineffective in dealing with the situation; since it is highly politicised, few traders actually lodge First Information Reports (FIRs) with the city's cops.
Even with the initiation of an Anti Extortion Cell, few have stepped up to register complaints and prefer to reply on personal connections to rid themselves of the extortionists. Despite the furore over extortion, Karachi police chief Akhtar Hussain Gorchani has only received 15 complaints in 10 days. "I thought extortion had reached a limit but I am confused at the few numbers of complaints received by the Anti Extortion Cell," he told The Express Tribune. "Either people can't develop trust in the police or there's some other reason."
Crime Investigation Department SSP Fayyaz Khan said that criminal gangs have complicated the city's situation, since they use the names of influential political parties to back up their demands. He said there is violent retribution for those who refuse to pay up.
This also makes it difficult to estimate how much money is extorted from Karachi, though a source said that at least Rs10.5 million was demanded from the traders on Tariq Road each month. In his testimony to the Supreme Court of Pakistan last August, the DG Rangers said that extortion is a 'normal practice' and at least Rs10 million is collected every day, from shopkeepers to the city's prominent businessmen. The negotiated amount that is paid is far less than what is being demanded.
For complainants who don't have someone influential backing them up, they can't find a way to track who has made the extortion demands over the phone. Often, a caller will use a single phone number to dial 20 traders and make demands, but the process of verification is difficult. The police do not appear to have access to trace calls, and requests end up going through several levels, from the SHO to the SSP to the DIG to the additional IG, who will then forward it to the Intelligence Bureau who will ask the Inter-Services Intelligence to help. It can take up to three months to trace calls through the official route, which makes the notion of listing the cell phone numbers being used in complaints useless.
*Names have been changed to protect the privacy of individuals
SOME BHATTA PRONE AREAS (according to police sources):
Gulshan-e-Maymar, Gulistan-e-Jauhar, Sacchal, Gadap, Malir, Gulshan-e-Hadeed, Bin Qasim, Lyari, Old city areas, Garden, Golimar, Pak Colony, Site, Shershah scrap market, Saddar, Napier Road, Kharadar, Mithadar, New Karachi, Surjani, Ranchore Line, Soldier Bazaar, Shah Faisal Colony, Korangi, Landhi, Kharadar, Liaquatabad, Sohrab Goth, Orangi, Qasba, Banaras, Kati Pahari, SITE, Baldia, Gulshan-e-Iqbal, Essa Nagri, Old Sabzi Mandi, Abul Hassan Ispahani Road, Hassan Square, Bahadurabad, Quaidabad, Keamari, Tariq Road, Sharafi Goth, Korangi, Lyari, Kharadar, Mithadar, New Karachi and Quaidabad.