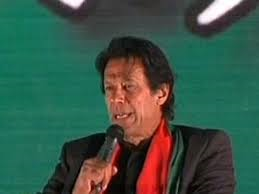 ISLAMABAD, Nov 30: Pakistan Tehreek-i-Insaf (PTI) Chairman Imran Khan threw down yet another gauntlet for the PML-N led government on Sunday, announcing the party's plan to paralyse major cities – and eventually "shut down" the entire country by December 16.
Addressing a crowd of thousands assembled at D-Chowk, Imran unveiled "Plan C":
"On Thursday (December 4), I will go to Lahore and shut it down. On December 8 I will shut down Faisalabad; on December 12 I will go to Karachi and shut it down. By December 16 I will close down all of Pakistan."
The PTI rally and the announcement of "Plan C" was a critical next-step for the party, which had lost political mileage and steam since the massive anti-government movement launched in August.
Reiterating demands for Prime Minister Nawaz Sharif's resignation and a fair probe into alleged rigging of the 2013 elections, the PTI Chairman appeared confident that his new push for street agitation would succeed.
"I know the people of Lahore are ready… I know all of Faisalabad is ready… and Karachi, I know they are waiting for me," he said.
Lambasting the ruling PML-N, Imran said a further "Plan D" would be revealed on Thursday.
"The ball is in your court, Nawaz Sharif — do your talks, do your investigations and solve the issue. We will close Pakistan down when December 16 comes, and what I do after that you will not be able to bear it…It has been 109 days and Naya Pakistan is waking up every day. We can all see it," Imran said.
Maintaining an aggressive tone while addressing his opponents, the PTI Chairman reiterated claims that the PML-N and Pakistan Peoples Party (PPP) colluded to rig the 2013 elections.
"I am a Pakistani who can see my country going down, you [Nawaz] and Zardari both in the 2013 election fixed the match. Zardari says there was rigging in Punjab; Nawaz says [there was] rigging in Sindh, Fazlur Rehman also says there was rigging… Balochistan parties say there was rigging," he said.
"I want to ask all lawyers and educated people — if all parties are saying there was rigging then why is only PTI and Imran Khan asking for an investigation this rigging?"
"Mian sahib, if a country progresses just based on new roads, then make Malik Riaz the prime minister — a country progresses when money is spent on the citizens for their betterment," he said, referring to the prime minister's announcement earlier this week of the government's plans for improved infrastructure and roads across the country.
Shah Mehmood Qureshi speaks
Addressing the gathering, PTI Vice-President Shah Mehmood Qureshi said the time for speeches was over.
"Today we will not make decisions – you will make all the decisions. Do you have the courage to implement Imran Khan's next big plan?" he asked.
"Should we quietly go home? If you don't want to go back make a decision – are you ready for the next step?"
A police official estimated that nearly 100,000 people gathered at Parade Avenue.
Supporters had poured into the capital from all over the country to attend the rally, making it one of the largest turn-outs in Islamabad since the start of the sit-in in August.
Participants at the rally said Parade Avenue was full of PTI workers sitting atop containers set up by the government. Nearly 80 per cent of the crowd was reported to be 18 to 40 year olds.
Sheikh Rasheed breathes fire
Chief of Awami Muslim league Sheikh Rasheed on Sunday spoke ahead of the PTI Chairman, and reiterated the anti-government protesters' demand that the government must go.
"When the time comes, Nawaz falls to his knees… when the time is up, he goes to Havelian," Rasheed says, referring to the premier's recent visit to Abbottabad where he lambasted the PTI.
"Imran Khan will finish the governance of tyranny," Rasheed said, adding that if cases can be registered against a former army chief and prime minister, then there is basis to register a case against Nawaz Sharif for "changing the votes of the people."
"I wanted to make a long speech but I am aware that every household is awaiting Imran's speech," Rasheed said.
Rasheed condemned the killing JUI-F leader Khalid Soomro, however, he added that JUI-F leader Maulana Fazlur Rehman's attitude has ruined his party's politics.
Capital, rally kept secure
Radio Pakistan reported that the government deployed thousands of security personnel for the PTI rally.
The report said the government deployed 15,000 security personnel to ensure security of the PTI rally, and the Red Zone in Islamabad. Special security arrangements were also made for public and private buildings in the area.
According to an Interior Ministry spokesperson, security forces including FC, Rangers and police, were placed in four cordons. The spokesman said containers had not been placed in the city, except the venue of the public meeting.