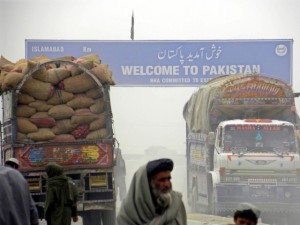 LAHORE, May 8: India is willing to look at more land border transit points with Pakistan and opening new border crossings at places like Munnabao in Rajasthan is a possibility , Sharat Sabharwal, India's high commissioner to Pakistan said on Monday. He was addressing the inaugural session of the 2nd Aman Ki Asha Indo-Pak Economic Conference . At present, Attari-Wagah is the only land route for trade between the two nations.
Later this month, Indian and Pakistani home secretaries are expected to sign off on an agreement that will liberalize the business visa regime. In the works are multiple entry visas, abolishing police checkposts and multi-city visas.
These measures are expected to give a fillip to Indo-Pak trade which today is languishing at sub $3-billion . Sabharwal said the Indian commerce ministry believes that trade between the two can touch $12billion in the next five years. He reiterated commerce minister Anand Sharma's promise that for every one step Pakistan takes, India will take two. "We will like to carry the process of trade liberalization forward in a manner to create a win-win situation for both sides." The Indian high commissioner appreciated Islamabad's decision to accord the most favoured nation (MFN) status to India and to move from a positive list of imports from India to a negative list.
Delivering the keynote address, Pakistan Prime Minister Yousaf Raza Gilani said core issues should be settled through dialogue and called for enhanced people-to-people contact. Gilani said his government was committed to normalization of ties. "Non-state actors from both sides of the border are determined to harm relations. We need to be vigilant . He said that in sectors like information technology, education, health engineering, there is huge scope for cooperation. He commended the Times of India and the Jang group of Pakistan for launching the Aman ki Asha initiative when tensions were running high between the two nations.
Hoping that the India-Pakistan economic conference will boost the peace process, he said poverty, disease and ignorance should not become the fate of the region. "Our people have suffered because of the policies of the past. They deserve better. No more time should be wasted ." He described industry captains at the conference as the "best ambassadors of peace" for both countries . "The world is marching on and it is time for us to shed the baggage of the past and grab the opportunity at hand and act with urgency to build relations of mutual trust."
Speakers at the conference highlighted the fact that improved economic relations between the two nations will lead to peace and prosperity . Some delegates were worried that offering MFN status to India might result in highly skewed trade relations with the balance tilting in favour of India. Their concerns were addressed by Pakistani business leaders such as Mian Muhammed Mansha, chairman, MCB Bank, and Bashir Ali Muhammed, chairman, Gul Ahmed.
They were unequivocal in saying that greater trade will benefit the Pakistani people and industry would gain from greater competition in the longer run. Mansha said he was keen on starting a bank in India.
Adi Godrej, CII president and head of the Godrej Group said the two largest economies of south Asia should work together to ensure that bilateral trade touches $10billion in the near term. Textiles, agriculture, engineering, IT, education and healthcare are sectors which can see immediate traction, he said. "Removal of tariff barriers should set in motion processes for the removal of asymmetries in trade."
Group managing director of Jang Group Shahrukh Hasan said the Aman ki Asha initiative has helped change perceptions in both countries. "Peace which has been tantalizingly elusive is inevitable," he said. He and almost all speakers said a liberalized visa regime is a must for any forward momentum in relations. "MFN and FDI are of no use without people being able to travel across the border," he said.
Rahul Kansal, executive president , Times Group, said history has shown that when foes develop deep economic stakes in each other, war becomes a non-option . "We are at a historic moment; it will be pity if we can't seize the opportunity."
Aman ki Asha is an initiative of the Times of India and the Jang Group of Pakistan and the Lahore trade meet is co-sponsored by CII and Pakistan Business Council.