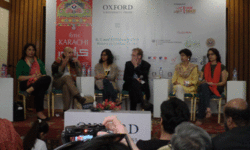 "Writing is a horribly lonely profession. You'll never know where you stand, whether you will be compensated; it's not like other professions which have an infrastructure," said author of 'Home Boy', H.M. Naqvi, during the Iowa Silk Route Residency Program session at the Karachi Literature Festival 2015 (KLF).
The session, which saw local and international writers, was engaging, informative and whimsical as the speakers drew on their individual experiences as residents of Iowa University's three-month residency program at different periods in time and also shared a number of anecdotes.
Formed in 1997, the program hosts 1400 writers from more than 140 countries — writers not only work on their own projects but also hold book readings, discussions among other things.
Narrating her experience, popular Karachi-based writer and columnist Bina Shah said that living in Iowa city was the most American and un-American experience.
"American because it is the heartland of the United States and un-American because the city almost feels like an international society as hosting writers has made Iowa so rich."
Indian writer Sridala Swami's wit was at her best when she exclaimed how doing the residency programme was like being married to several people – an allusion to the global nature of the programme.
She also drew chuckles from the audiences when she relayed how she and Shandana Minhas, author of 'Tunnel Vision', met at the programme in 2013, discovered that they were from India and Pakistan, respectively, and also found themselves in rooms facing off each other.
Perhaps it was this very question that prompted two members in the audience to later ask why there was so much of love ruining hate at the national level between the two neighbouring countries and why couldn't they resolve their differences.
Indian writer Kavery Nambisan responded saying that 'politicians are generally hardbrained people' and also added that it was not completely fair to put the onus on the government and that citizens were equally responsible.
"We need more events like KLF – I have got to know so much about Pakistan through it." Her reply ensured that the session did not go dangerously askew, politically.
As most of the speakers are established writers to their credit, an interesting question asked from one of the members in the audience was the impact of the residency programme on their writing.
Minhas said she had heightened confidence in her capabilities and embraced her craft anew, following completion of the program.
Earlier, she also divulged how her father always told everyone that she was a journalist, despite the fact that she was a writer, as the latter is not so well-received and respected which bore testament to the fact that writing still has a long way to go before it cements its place as a mainstream, lucrative profession in Pakistan.