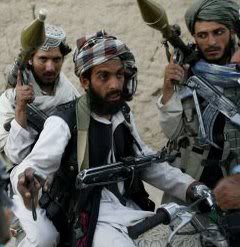 MIRAMSHAH: The most powerful militant leader in Pakistan's North Waziristan border region has threatened to tear up a peace accord and turn his fighters against the Islamabad government.
Hafiz Gul Bahadur has an unofficial non-aggression pact with the military.
Pakistan can't afford new militant enemies. The army's hands are full with the Tehrik-e-Taliban (TTP), or Taliban Movement of Pakistan, blamed for many of the suicide bombings across the South Asian country.
Bahadur is known to have links with notorious militant groups in tribal North Waziristan, including the Haqqani network.
Bahadur criticised Pakistani leaders for allowing the United States to conduct drone missile strikes in North Waziristan and said the council of militant groups he heads would no longer hold talks with the government.
"We have been showing patience because of problems being faced by common people but now the government has also resorted to repression on our common people at the behest of foreigners," Bahadur, who heads a Pakistani Taliban faction, said in a statement distributed in North Waziristan.
He accused the government of firing mortar bombs and cannons on civilians and demolishing a hospital and other buildings in North Waziristan. Army officials were not immediately available for comment.
Local military officials said "terrorists" had used public buildings to launch rocket attacks at military checkpoints.
"We are disbanding the jirga (council) set up for talks with the government. If the government resorts to any repressive act in the future then it will also be very difficult for us to show patience," said Bahadur.
Bahadur, believed to have thousands of fighters, reached a peace agreement with the Pakistani government in 2007. But it has been strained lately.
Two clerics who are leaders of the committee that overseas the pact, Maulana Gul Ramazan and Hafiz Noorullah Shah, suggested the army had violated the deal.