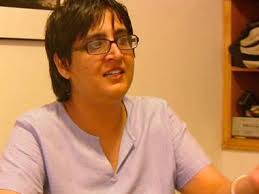 NOBODY, of course, had anything to do with it, when Sabeen Mahmud's car was stopped by two men on a motorbike who shot her at point-blank range through the windows. The Pakistani Taliban denied all responsibility. The Inter-Services Intelligence, ISI, promised all possible help to the police. Nawaz Sharif's government ordered the police to find the perpetrators within three days. The police said they were very busy ascertaining a motive.
Really, it wasn't hard to spot one. Here in the midst of anarchic, dysfunctional, crammed, crazy, noisy Karachi was a woman who was even more anarchic, crazy, noisy and in-your-face. She was at the heart of every disturbance, from supporting rank outsiders in the local elections to organising flash protests on social media, and spiced up every organisation she belonged to, which was any outfit committed to challenging discrimination or injustice.
No veil or scarf for her; with her short-cropped hair and black-rimmed glasses, she looked like a New York intellectual and felt like a postmodern hippie child. She loved Jimi Hendrix, Bruce Springsteen and the Beat poets. She'd give you a straight, cool stare, equally straight talk, an easy laugh, and a philosophy of absolute fearlessness. If you were afraid, she'd say, you'd get nothing done: especially not in army-ridden, intolerant Pakistan, where so much was never to be questioned or discussed, and certainly not by women.
The centre of all she did was the Second Floor (T2F for short), the café/bookshop/ performance space she founded in 2007. She had a pittance in the bank at the time, but a reckless dream of copying the old Pak Tea House in Lahore where radicals used to meet. By working on tech projects all the hours she could, maxing out her credit cards and begging money from relations, she gave Karachi a place where talk—about art, science, politics, anything—could flow freely, and citizens could get online and organise. Two years later, when the nervous landlord kicked her out, the café had become such a lifeline for Karachi's free-thinkers that she easily found a better place. She called the performance area "Faraar", Urdu for "escape".
There, in a comparatively shabby street in the posh Defence district, poets on open mic advocated revolution; people sat around for hours discussing life on Mars; musicians tried out their pieces, artists hung weird stuff on the walls, home-made films were screened, and anyone could wander in and shoot the breeze, no matter what their creed or disposition or label— Punjabi, Bihari, or whatever. In 2007, when President Pervez Musharraf fired some Supreme Court judges, Ms Mahmud invited lawyers to plot their protests there. In 2013 she organised a hackathon, Pakistan's first, where for a whole weekend people brainstormed new ideas and apps to make Karachi work better. Don't just bad-mouth the government, she would say. Take charge! Change things!
No one paid to belong to T2F, though you could buy good coffee and brownies, as well as alternative books. Those takings covered about half the costs and gave her a salary, not that she cared much. She ran her own media-and-tech consulting firm and was president for a time of the Karachi outpost of an organisation that fostered tech entrepreneurs, but didn't want to make money. The point was to fight the "horrible stuff" going on in Pakistan and the world.
Where had all this adrenalin-boosted energy come from? She blamed her mother, Mahenaz, for instilling "mad ideas at a young age" and supporting her ever after. (Mahenaz was in the car with her, and was hurt in the attack.) But she was spurred on just as much by anyone who told her she could not or must not do a thing. When a computing teacher belittled her at school she decided to master computers by herself, falling in love at 14 with a Macintosh Plus that had Pink Floyd and Lenny Bruce in it, and teaching herself to solder wires and write programs. Small wonder she believed, first, that formal education was stultifying, and second that computers, especially Macs, could shake everything up in the way she longed to see.
Even sport pricked her defiance. Her school, Karachi Grammar, didn't let girls play cricket, so she played it at home with any spare passing males she could find. A bat, stumps and proper hard ball went with her to the office—to whack assailants over the head, apart from anything else.
Inviting enemies in
Abuse and threats came often. She laughed them off. Other dissidents left Karachi, but she loved it too dearly to live anywhere else. Friends said she should put a security guard on the café door; she preferred to invite her enemies in, to eat panini and join the conversation. In 2007 she hosted a talk by an author who had uncovered army finances; ISI people were invited, and some came. On April 24th she had just held a meeting to "un-silence" Baluchistan, Pakistan's most neglected and separatist province, where hundreds of activists and students had been abducted, probably killed. Lahore University had been warned off the subject. There would probably be "blowback", she told a friend; "I just don't know what that blowback entails."
The authorities and jihad-makers were all most extremely sorry. Not half as sorry as the artists, poets and thinkers of Karachi, who suddenly found it hard to breathe.