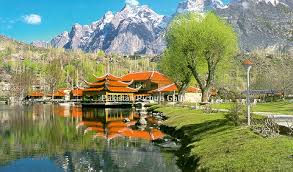 FAIRY MEADOWS, Pakistan June 29 — For more than five decades, locals have called it "Killer Mountain," a reminder of the risks of trying to scale beautiful, snow-topped Nanga Parbat.
More than 100 climbers and porters have died on the steep, rocky ascent up the world's ninth-highest mountain — a fact Pakistan once touted in a bid to lure thrill-seekers.
Now, however, local residents are frantically trying to scrub the word "killer" from a mountain that has become a symbol of the threat posed by the Pakistani Taliban.
One year ago this month, about a dozen heavily armed Pakistani Taliban militants executed 10 foreign mountain climbers, including a U.S. citizen, at the base of the mountain. It was one of the worst acts of violence to strike the international climbing community.
Terrorism is hardly unusual in Pakistan; at least 3,000 people died last year alone in the country in violence attributed to Islamist extremists. But the attack at Nanga Parbat was a major blow, horrifying citizens who view the majestic northern mountains as a source of national pride.
"As a Pakistani, I look at it as our Sept. 11," said Nazir Sabir, who in 2000 became the first Pakistani to climb Mount Everest in Nepal. He now operates an Islamabad-based tour company. "We never, never, ever thought that this could happen."
The attack also crushed the remnants of Pakistan's international tourism industry, creating new hardship in a part of the country known for its tolerance and hospitality. The loss of foreign climbers was so distressing that Prime Minister Nawaz Sharif cited it as one reason he ordered a military offensive against the Pakistani Taliban in North Waziristan this month.
Pakistan is home to five of the world's 14 highest peaks, including K2, the second-highest mountain in the world. Nanga Parbat, at 26,660 feet, is Pakistan's second-highest mountain.
After the attack, the number of foreign mountain climbers collapsed.
"It may take years and years before they will consider going back to a place like Pakistan," said Steve Swenson, past president of the American Alpine Club, who has been on 11 climbing expeditions in Pakistan over the past three decades. "I talked to a lot of people, even fairly knowledgeable people, about going there again, and their immediate response is: Is it safe? And then a not-unusual response is: Are you crazy?"
'This is the day we take revenge'
According to local officials and residents, the Pakistani Taliban attackers hiked through the wilderness for three days to reach the base camp on the western side of the mountain, known as the Diamir Face, late on June 22, 2013.
"Taliban! Al-Qaeda! Surrender!" the militants shouted as they marched into the camp, where the climbers and about three dozen porters slept.
officials say security measures have been increased. (Max Becherer/Polaris Images For The Washington Post)
The assailants went looking for foreigners, slashing more than 40 tents with knives. They yanked people from their tents — one Lithuanian, three Ukrainians, two Slovakians, two Chinese, one American and one Nepali — tied their hands behind their backs and made them kneel in a row in the moonlight.
"Then, suddenly, we a heard a shot," said one 31-year-old Pakistani climber, who was tied up by the militants nearby. He spoke on the condition of anonymity because he continues to fear for his safety.
"Then we heard hundreds of 'brrr, brrr, brrr' sounds," like an automatic weapon might make, he said. "Then a leader of the group came and shot all the dead bodies one by one again."
One militant then shouted, "This is the day we take revenge for Osama bin Laden," the man recounted — an apparent reference to the United States' killing of the al-Qaeda leader in Pakistan two years earlier.
Only one foreign climber — a Chinese man who hid in a steep trench clutching a pickax — survived. The attackers also killed a Pakistani cook, apparently because he was Shiite.
Pakistani police later arrested six people who reportedly confessed to the crime.
Before the Sept. 11, 2001, terrorist attacks, hundreds of thousands of tourists traveled each year to Pakistan's Gilgit-Baltistan district, where the Himalayan, Karakoram and Hindu Kush mountain ranges meet.
There were 20,000 tourists in northern Pakistan on the day of the attacks on New York and the Pentagon alone, but afterward the country was lucky to attract half that number in an entire year, said Tayyab Nisar Mir, a manager at the Pakistan Tourism Development Corp.
Those who did come were almost exclusively mountain climbers and long-distance backpackers determined to explore some of the world's most picturesque scenery.
Although there were about 150 climbing expeditions a year in the country in the 1980s and 1990s, and about 75 annually after 9/11, only about 30 are likely to occur this year, officials said. And no climbers are expected this summer at Nanga Parbat. (At least two climbers made an unsuccessful attempt this past winter; no one has made it to the peak of Nanga Parbat or K2 in the winter).
The number of backpackers has declined even more dramatically, Mir said.
"Nanga Parbat was the last nail in the coffin of tourism in Pakistan," he said, adding that the loss of tourism is costing the country $100 million annually.
Officials in Gilgit-Baltistan stress that the massacre was an isolated tragedy. They have been going to great lengths to reassure visitors that the region is safe.
On a pull-off spot overlooking Nanga Parbat on the Karakoram Highway, a sign once read, "Look to your Left: Killer Mountain."
But Qaria Amin, 33, who operates a gem store at the spot, said that a month after the massacre, a police officer made him paint over the word "killer." The sign now reads, "Look to your Left: Mountain."
Local government officials had part of the mountain's nickname, "Killer Mountain," painted over on a sign. (Max Becherer/Polaris Images for The Washington Post)
Kareem's climbing equipment shop saw a constant stream of customers before. Now, merchandise collects dust. (Max Becherer/Polaris Images for The Washington Post)
Amin says he is lucky if he makes a $100 a week now, compared with the $100 a day he used to bring in selling rubies, topazes and emeralds collected from the nearby hills.
At Fairy Meadows, a village that overlooks the northwest face of Nanga Parbat and the Raikot glacier, the tourism industry has "collapsed, causing hopelessness," said Raji Rehmal, a resident.
The village of about 50 extended families is so remote that there are few other economic opportunities. To get there, visitors travel an hour by jeep up what locals call "the world's most dangerous road," a lane so narrow that vehicles' tires are inches from the ledge. The road ends at an elevation of about 8,200 feet, and visitors then must hike to the village, elevation 11,154 feet.
Rehmal, who estimates that he is 50 years old, says he has walked at least 13,000 miles working as a guide or porter for foreigners. His work helped pay for the construction of a school for the village. A foreign climber came up with the name Fairy Meadows in the 1950s because the grassy plateau reminded him of a fairy tale, according to tour operators.
"In the good days, there were doctors who used to bring medicine, and Westerners who used to linger longer just to teach the local kids," Rehmal said. "We would never, ever think of harming any tourist, any foreigner."
Pakistani hikers in the area also said they miss the foreign visitors.
"We have so little to be proud of, so if there is something as impressive as this, and foreigners come praise it, it's a psychological lift," said Nashreem Ghori, a 41-year-old Karachi native who was hiking near Fairy Meadows.
There has also been a steep decline in the tourism business in the Hunza Valley, an oasis of cherry and apricot trees wedged between imposing snow-
covered mountains. The area is one of several Himalayan­ locations that have been mentioned as the possible inspiration for the mythical Shangri-La in James Hilton's 1933 novel, "Lost Horizon."
"Here, we have nice weather, nice mountains, nice people, but tourists are not coming, " said Mohammad Karim, 34, a guide who also runs a camping store in Karimabad, a town in the valley.
Ghulam Nabi, owner of a campground at Fairy Meadows, said he fears that residents may resort to mining or logging to try to earn a living if the tourists stay away.
"The people of Gilgit-Baltistan have learned a lot from Western people," Nabi said. "We were taught how to protect the environment, and how to balance tourism and nature."
Authorities now assign an armed police officer to any foreigner who wants to go hiking near Nanga Parbat. Pakistanis are hopeful that such measures, and the stunning scenery, will eventually draw back tourists.
"Those mountains are not going anywhere," said Iqbal Walji, a Pakistani tour operator. "Sooner or later the people will come back, because it's one of the most beautiful places on earth."