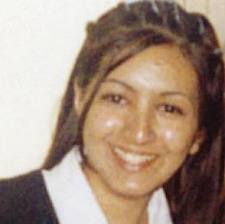 LONDON, Aug 3 : A Pakistani-born couple were jailed for life by a British court Friday for murdering their "westernised" teenage daughter in an apparent honour killing.
Iftikhar Ahmed, 52, and his wife Farzana, 49, were told at Chester Crown Court in Cheshire, north-west England, that they would serve a minimum of 25 years each after suffocating their 17-year-old daughter Shafilea in 2003.
In a high-profile case, Shafilea's sister Alesha had told the jury that her mother had said, "Just finish it here," as they forced a plastic bag into Shafilea's mouth in front of their other children.
Prosecutors said the Ahmeds, who lived in the town of Warrington, near Chester, killed their daughter because they felt her "western" habits such as wearing make-up and talking to boys brought shame on the family.
Passing sentence, judge Roderick Evans told the pair: "Your concern about being shamed in your community was greater than the love of your child.
"Shafilea was a determined, able and ambitious girl who wanted to live a life which was normal in the country and in the town in which you had chosen to live," he said.
"She was being squeezed between two cultures — the culture and way of life that she saw around her and wanted to embrace, and the culture and way of life you wanted to impose on her."
Iftikhar Ahmed stood impassively as the sentence was passed, while his wife sobbed.
The jury had unanimously found them guilty earlier on Friday after 11 hours of deliberation.
Shafilea had disappeared in September 2003, and her body was found five months later on a riverbank in Cumbria, north-west England.
The court heard that she had been drugged and taken to Pakistan in February 2003 to be forced into a marriage with a much older man.
She was so terrified of the marriage that she drank bleach, and was taken back to Britain where she spent eight weeks in hospital.
Shortly before she was taken to Pakistan, she had run away from home and asked the local authority to provide her with emergency accommodation, the court heard.
In her letter to the authorities, she said she had suffered from regular domestic violence since she was 15.
"One parent would hold me whilst the other hit me," she wrote. "I was prevented from attending college and my part-time job."
Her main reason for running away was that her parents "were going to send me to Pakistan and get me married to someone," she added.
Her parents were arrested in December 2003, three months after the killing, on suspicion of kidnapping Shafilea — but they were released without charge after prosecutors found there was insufficient evidence against them.
They were re-arrested in 2010 after Alesha was caught organising an armed robbery at the family's own home, and told police she had witnessed her sister's murder.
Iftikhar Ahmed, a taxi driver, denied the murder and said Shafilea had run away. His wife also denied the killing, but told the jury she saw her husband beating Shafilea and believed that he killed her.
Another of their daughters, Mevish, supported their defence.
But in a remarkable twist after the trial began, one of Mevish's friends produced writings by her that appeared to corroborate Alesha's story.
Mevish Ahmed insisted the writings were a piece of drug-induced "fiction" that Alesha had used to base her story on.
Prosecutor Paul Whittaker paid tribute to Alesha Ahmed for having the courage to give evidence against her parents, and urged victims of honour-based violence to come forward.
"The word 'shame' has been heard many times during the course of this trial, but the shame is not on Shafilea, it is on her parents," he said. (AFP)