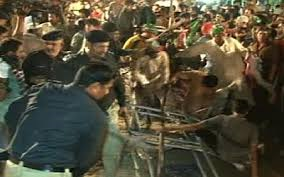 Islamabad, Aug 31 – Pakistan's army has instructed the country's embattled government to solve its political crisis without violence on Sunday following a night of clashes in the capital between police and thousands of protesters demanding the prime minister step down. The demand came after an emergency meeting of the army's high command and was the latest intervention by the country's powerful military in the drawn out standoff between the government and followers of former cricketer Imran Khan and populist cleric Tahir-ul-Qadri.
The army has toppled civilian governments in the past, including one led by the current prime minister Nawaz Sharif, either by directly assuming power in coups or by installing caretaker governments. In language that underlined the institution's undimmed ability to dictate events, an army statement said it was "committed to playing its part in ensuring security of the state".
It added its "serious concern" about violence in Islamabad and that the situation should be "resolved politically without wasting any time and without recourse to violent means."
Political accommodation appears unlikely, given that the government and its opponents are deadlocked over the future of the prime minister, who won a landslide victory in last May's election that Khan claims was secured by massive vote rigging. Khan and Qadri, who marched from the city of Lahore to Islamabad on 14 August in a bid to oust the government, insist Sharif must go.
The government has been at pains to avoid an ugly stand off with demonstrators, ordering police not to confront them as they advanced ever closer to the heart of the capital, even allowing them to hold a protracted sit-in on the road directly in front of parliament and other key government buildings.
But, on Saturday night, Khan and Qadri urged their supporters to seize Sharif's official residence, forcing police to respond with tear gas and rubber bullets to swarms of demonstrators who succeeded in smashing a gate and flooding into the grounds of parliament. Almost 500 people were injured and three died, although one was the victim of a heart attack.
The police response was criticised as excessive by some, though many of the protesters were equipped with gas masks and armed with bamboo staffs, slingshots and other weapons.
The main opposition Pakistan People's party, which has generally supported Sharif throughout the crisis, criticised the crackdown. And the Muttahida Qaumi Movement party, which has a significant vote block in parliament, joined calls for the government to step down.
Sporadic clashes continued throughout the day on Sunday, with some protesters using slingshots to fire glass marbles at police.
But, by night-time, it seemed neither Khan nor Qadri were preparing to provoke another confrontation, with Khan appearing on the top of the converted sea container in which he has been living for more than two weeks to announce he was going to have a rest. The government will struggle to defend key buildings without using force in any future attempt to seize them.
"Sharif is now in the tightest of corners," said commentator Mosharraf Zaidi. "The army does not want to intervene in this political dispute but it also clearly indicates that it will not defend prime minister Sharif."
A noticeably gloomy editorial in Dawn, a respected English-language daily paper, asked whether Sharif could survive Sunday's crisis.
"The answer, in these frantic hours, must surely be a miserable, despondent no," it concluded.