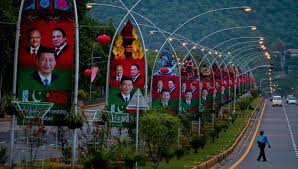 ISLAMABAD, April 20: Chinese President Xi Jinping has termed Pakistan's offensive against militants in North Waziristan a "game-changer" in bringing peace to the region.
The Chinese president, who arrived in Pakistan earlier today, said Operation Zarb-e-Azb's 'remarkable results' would also, in turn, contribute to Pakistan's economic development.
President Xi made the comments during his meeting with Services Chiefs of Pakistan's armed forces Monday evening, according to an Inter-services Public Relations (ISPR)statement.
He also appreciated Pakistan's strenuous efforts in counter-terrorism to promote peace, stability in the region, and vowed to stand by Pakistan in all its endeavours, and to continue to support it in fight against terrorism, and bringing stability.
President Xi arrived at the Prime Minister House after receiving a rousing welcome at the Islamabad airport earlier in the day.
He is on a two-day state visit to Pakistan to sign a number of important agreements and MoUs worth $46 billion. The two countries are set to cooperate in gas, coal, and solar energy projects to provide 16,400 megawatts of electricity — roughly equivalent to the country's entire current capacity.