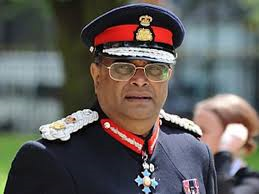 One of the Queen's personal representatives has resigned after leaked emails showed him saying British Pakistanis must be taught "basic common courtesy and civility".
Paul Sabapathy, CBE, Her Majesty's lord lieutenant of the West Midlands, made the remarks in an email after attending an event at the Pakistan consulate in Birmingham on 14 August to commemorate Pakistan Independence Day.
Apparently unhappy about the lack of respect he and colleagues were shown as the Queen's representatives, he said: "Pakistanis are lovely people individually but there is a lot of work to do to teach them basic common courtesy and civility."
He went on: "They talk to themselves and do not engage with the wider community. They are living in the UK not Pakistan. Whilst being rightly proud of their Pakistani culture and heritage they need to explain better and engage more with their non-Pakistani brothers and sisters if they want their children to succeed as British Pakistani citizens."
Sabapathy, who was born in Chennai in India and moved to the UK in 1964, was the first non-white lord lieutenant.
Her Majesty's lord lieutenants are the representatives of the crown for each county in the United Kingdom. Men or women of all backgrounds, they are appointed by the Queen on the advice of the prime minister.
Lord lieutenants were originally appointed in Henry VIII's reign to take over the military duties of the sheriff and control the military forces of the crown. Nowadays they perform a largely ceremonial function but are nonetheless expected to uphold the same standards as the reigning monarch.
Sabapathy's remarks were seemingly prompted by a group of 20-25 Pakistani men talking as he tried to address the Independence Day event.
When the Guardian contacted Sabapathy on Friday morning to ask for clarification on his remarks, he asked for time to comment. In the meantime a growing number of MPs spoke out about his remarks, with one Pakistani-origin MP saying the lord lieutenant had been offensive and must apologise.
At 5.30pm on Friday he issued a statement saying he had decided to stand down and wanted to offer an unreserved apology.
He said: "I wish to apologise unreservedly and wholeheartedly for the offence I have caused to the Pakistani community and others, by the contents of my private email. I have today written to all those who received my original email to express my sincere sorrow and regret. I have asked for their forgiveness in the hope that my comments do not damage relationships between the many communities of the West Midlands."
A palace spokesperson said in a statement: "We understand that Paul Sabapathy has informed the Cabinet Office of his decision to step down from his role as lord lieutenant in the West Midlands. The Royal household would like to acknowledge the tremendous work done by Mr Sabapathy since his appointment in 2007 to support the work of the royal family and to bring together and work with the communities in the West Midlands."
Before Sabapathy tendered his resignation, Shabana Mahmood, MP for Birmingham Ladywood, whose family are from Mirpur in Kashmir, Pakistan, said: "Clearly he should apologise, his comments are very offensive. If he had issues with the way the event was organised then the appropriate thing to have done would have been to take it up with the event organisers directly."
Valerie Vaz, Labour MP for Walsall South, said: "I am disappointed with these generalised remarks about the Pakistani community which indicates to me he is out of touch. In my experience the community are hospitable, generously support charitable causes both in the UK and aboard, support multi-faith activities and actively oppose those who seek to divide our diverse tolerant community in Walsall. I think he should apologise."
Another West Midlands MP, Roger Godsiff, who represents Birmingham Sparkbrook and Small Heath, was at the Independence Day event: "Based on my own visit to the Pakistani consulate in Birmingham on 14 August, it is surprising that Paul Sabapathy could make such sweeping generalisations. Perhaps the other attendees thought he was being a bit snooty and ignored him," he said.
He added: "It seems that it would be helpful for community relations if he did apologise."
Jess Phillips, MP for Birmingham Yardley, said: "Without understanding the context of what happened at the event it is difficult for me to comment. But I would say if Paul Sabapathy thinks the British Pakistanis don't engage with the wider community he wants to come and live on my street. He wouldn't be there for five minutes without being invited in for a chat with my British Pakistani neighbours."
The remarks were leaked the day before Sabaphaty was set to appear as guest of honour at the British Organisation for People of Asian Origin (Bopa) in Birmingham. On Saturday he is due at the Belgrade Theatre for Bopa's conference on the "Asian contribution to World War One".
But Davinder Prasad, Bopa's chief secretary, said Vaz and others were "making a meal out of it."
He said: "Why should the lord lieutenant apologise? He was right in what he was saying. The Asian community, whether Sikh or Pakistani or Indian must learn. What he is doing is educating Asian people that they are in British society. They can't behave as if they are still in Pakistan, India, Bangladesh or Sri Lanka. They must not just expect to get food on a plate. They must accept what British society has on offer, for example, tolerance and respect. We need to show respect to the British monarchy. Why must people try to make a meal out of what he said?"
He added: "I'm appalled if someone is asking him to apologise. We are very fond of the lord lieutenant and see him as a source of inspiration. We have nothing but respect for him. If somebody is being discourteous or impolite, the lord lieutenant is right to draw it to their attention. Anyone criticising him should look himself in the mirror."
Andrew Mitchell, the Conservative MP for Sutton Coldfield and secretary of state for international development, praised Sabapathy for his "superb work across the area" and good relations with the Pakistani community, and said something must have gone "awry" on Independence Day.
In his resignation statement, Sabapathy wrote: "As an immigrant myself, coming to the UK 51 years ago not knowing anyone and the first non-white lord lieutenant ever, I have been conscious of my duty to engage with and support all communities in their endeavour and to ensure they are represented fairly and without discrimination.
"Those who know me will, I am sure, confirm I am a great advocate of the Muslim and Pakistani communities – in the same way that I support all of those in the region, no matter their colour, creed or beliefs. Collaboration and engagement are at the heart of all my work. There is not one iota of prejudice on my part and I am deeply sorry for the upset I have caused and I offer my sincere and heartfelt apologies.
"It has been a privilege to be the representative of Her Majesty the Queen and to serve the communities of the West Midlands for the last eight years. Having given the matter deep consideration and in the light of my wife's ill health I have decided to stand down as lord lieutenant of West Midlands to spend more time with my wife."