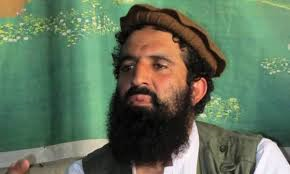 A senior leader for the Islamic State in Afghanistan, currently embroiled in a feud with the Taliban over who will conduct the insurgency there, has been killed in a U.S. drone strike, local media reported Thursday.
The strike killed Shahidullah Shahid and more than two dozen militants in eastern Afghanistan south of the city of Jalalabad. It was in that city where Islamic State militants conducted their first major attack against Afghan civilians in April, killing 35 in a suicide bombing.
The drone strike was Tuesday, the same day Taliban officials met for the first time with an Afghanistan delegation in Islamabad, Pakistan, to open peace negotiations.
The Pentagon said Thursday that "precision strikes" by U.S. forces were carried out Monday and Tuesday south of Jalalabad "against individuals threatening U.S. and coalition forces." There was no elaboration.
Afghan intelligence officials told media that those killed in the drone strike included Shahid, a former Pakistan Taliban spokesman and another senior Islamic State leader in Afghanistan, Gul Zaman.
The Islamic State, also known as ISIS or ISIL, controls vast portions of Syria and western Iraq. Last year, it began recruiting disaffected members of both the Pakistan and Afghan Taliban insurgencies and providing funding for opening a front in South Asia, said Seth Jones, a political scientist with RAND Corp.
"What they've done is they haven't built anything from scratch. They've just reached out to disaffected folks," Jones said. "It's possible, for example, if (Afghanistan government) negotiations continue with the Afghan Taliban, that those who don't want a peace deal may defect to the Islamic State. But the challenge the Islamic State has in this area is its ideology is foreign."
Shahid was named deputy chief for a region the Islamic State identifies as spanning parts of Afghanistan, Pakistan and Iran. A cover story in an Islamic State magazine published in December was highly critical of Taliban leader Mullah Mohammed Omar.
The Afghan Taliban reacted strongly to the intrusion publishing an open letter on its website in June warning the Islamic State to stay out of its territory. "Jihad against the Americans and their allies must be conducted under one flag and one leadership," the letter said.
Last year, Shahid was fired as Pakistani Taliban spokesman after pledging allegiance to the Islamic State. At the time the Pakistan Taliban said Shahidullah Shahid was a "nom de guerre" and that his real name was Sheikh Maqbool, the BBC reported.
A senior leader of Islamic State operations in southern Afghanistan, Mullah Abdul Rauf, who had sworn allegiance to the militants after breaking with the Taliban, was killed in a U.S. drone strike in February.