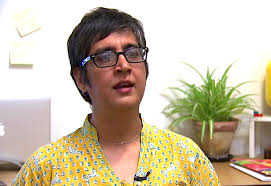 Islamabad April 27: A leading member of Pakistan's small band of liberal social activists has been gunned down outside the pioneering Karachi arts venue she founded, in an apparent bid to silence discussion about the country's brutal efforts to smother separatism in the restive province of Balochistan.
The murder of Sabeen Mahmud on Friday sent shockwaves through Pakistan's embattled intelligentsia both because she was much loved but also because the killing happened immediately after an event she organised with Mama Abdul Qadeer, an elderly Baloch activist campaigning on behalf of so-called "missing people" abducted by the state security apparatus.
Witnesses said she was shot several times by unknown gunmen in her car just after she left the talk at The Second Floor, or T2F as her cafe and arts space is known. Her mother was also critically injured in the gunfire and rushed to hospital.
On Saturday Pakistan's army spokesman Asim Bajwa decried the killing of Mahmud as "tragic and unfortunate".
Intelligence agencies had been "tasked to render all possible assistance to investigating agencies for apprehension of perpetrators and bringing them to justice," General Bajwa said.
Although Mahmud had also made enemies among religious militants – not least with her counter-protest against Islamist attempts to stop Karachites marking Valentine's Day – many of her friends believe the country's "deep state" is responsible.
Pakistan's military establishment is extremely touchy about the issue of Balochistan, where a nationalist movement has developed into a potent insurgency in the last decade.
The separatists are demanding independence from a Pakistani state they claim is oppressive and only interested in extracting the province's energy and mineral resources.
Authorities are particularly sensitive about Qadeer, the 73-year-old who in 2013-14 walked 1,200 miles from the Baloch capital of Quetta to Islamabad to protest about missing people, including his own son who was found dead and mutilated in 2011 having vanished in 2009.
In March he was banned from travelling to the US to attend a human rights conference in the US.
This month the Lahore University of Management Sciences, one of the country's most prestigious colleges, was forced to cancel an event to which Qadeer had been invited.
Senior faculty members told Dawn, a leading Pakistani newspaper, they had been forced to scrap the "Un-Silencing Balochistan" talk on the orders of the Inter-Service Intelligence directorate, the military's powerful spy wing.
Following the cancellation of the LUMS talk Mahmud was all too aware of the risks and asked her circle of friends on Facebook about what "pre-emptive measures" she should take before hosting what she called "Un-silencing Balochistan (Take 2)".
"A lot of people did say there would be blowback but nobody thought they could shoot someone dead like that," said Taha Siddiqui, an outspoken journalist and one of Mahmud's many friends on Pakistan's liberal-left.
"Shooting dead seemed a little too brutal, something that happens only in remote areas of Balochistan," Siddiqui said. "But now they are doing in in Karachi."
The country is extremely sensitive to the threat from nationalists, given it lost half its territory when East Pakistan seceded to form Bangladesh in 1971.
Authorities are especially keen to quell the insurgency now the province is slated to play a critical role in the grand strategic plan to turn Pakistan into a land corridor connecting China with Arabian Sea.
Last week Chinese president Xi Jinping made an important stat visit to Pakistan where he signed off on a multi-billion dollar spending splurge which hopes to turn Gwadar, a town on the coast of Balochistan, into one of the world's great trading hubs.
Many Pakistani activists and journalists have learned that it is best not to publicly scrutinise the Balochistan issue.
Hamid Mir, the country's most famous television news presenter, was seriously wounded by gunmen in Karachi following a confrontation with the army over his coverage of Qadeer.
Mahmud's funeral procession began on Saturday at T2F, the cafe she established to organise debates and art events.
Local novelist Mohammed Hanif described T2F as "a space for Karachites to come and play and create".
"The deep state already controls media in reference to Balochistan coverage," said the acclaimed writer and journalist. "Now Baloch voices can't be heard in private spaces."