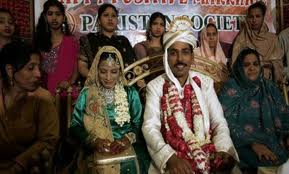 MIRPUR, July 14: New British immigration laws have unleashed a stampede to wed and a frenzy of English lessons for Pakistanis desperate to migrate as new restrictions come into effect.
The boom was particularly marked in Mirpur, where Islamabad estimates 200,000 of Britain's 1.2 million Pakistanis have their family origins.
Almost all the town's 403,000 residents have relatives in the former colonial power, after a huge surge of migration from the area in the 1960s when a major dam was built, costing thousands of farmers their livelihoods.
At the time Britain needed more workers for its factories in the industrial cities of central and northern England, and granted immigration permits to many of them and their families.
Now with immigration an increasingly controversial issue in Britain, Mirpuris rushed to secure residency rights before the door was pushed tighter.
Wedding planners were rushed off their feet, English teachers overwhelmed and immigration consultants buried under mounds of paperwork as brides and grooms queued to file immigration papers by July 6, the last working day before the deadline.
Faisal Mehmood, a self-styled immigration consultant, said business was several times higher than the six to eight cases he normally processes a week.
"I consulted on and helped fill in immigration papers for 53 couples in the first week of July," he told AFP in his office in Mirpur, the wealthiest town in Pakistani-administered Kashmir, 83 kilometres east of Islamabad.
From July 9, new restrictions made it impossible for anyone who earns less than GBP 18,600 ($29,000) a year to move a foreign spouse to Britain, or less than GBP 22,400 if that spouse has a child.
To acquire British nationality, foreign spouses now have to wait five rather than two years to test whether a relationship is genuine, must be proficient in English and once in Britain, pass a Life in the UK test.
For Britons of Pakistani descent, April is by tradition the peak month for holidays and weddings in their parents' homeland, before the summer heat becomes unbearable for those accustomed to northern climes.
But wedding planners say they saw record business from Britons in June and the first week of July, with nuptials up 20 per cent in Mirpur so far this year.
Arshad Hussein Shah, the manager of eight marriage halls, said his company organised weddings for 15 Britons from June 1 to July 6.
"There was a sudden surge because the UK government changed the immigration laws for spouses and everybody rushed to marry and file papers before the deadline," he said.
It was a similar tale for Ali Raza, managing director of the UK College of English Language, who says 35 students enrolled in June—50 per cent more than usual.
"There were more girls than boys. Everybody wanted to complete a quick English course and obtain certificates to file immigration papers," said Raza.
"Nobody was expecting this sudden implementation of the new laws. It created panic among the candidates," he added.
Batool Bukhari, 25, married her cousin in April and raced through an English course as quickly as possible.
"I applied for immigration in the second week of June. I had to rush my application when I found out that the new laws are being implemented soon. It was very tense," said Bukhari.
In Islamabad, the British High Commission said there had been a "significant increase" in the number of applications to join a spouse and live permanently in Britain ahead of the new rules coming into force.
The surge has caused delays in processing applications, the commission said, with some taking up to six months to be resolved.
For those who missed the deadline, the new rules mean new uncertainty.
Naeem Lodhi, 32, who has dreamt of moving to Britain since childhood, married on June 22 but was unable to file the necessary paperwork in time.
"My wife, who came here to marry me, is leaving for the UK in a month. I'm worried about my immigration because her salary is much lower than the amount required," he said.
Similarly, a hairdresser in London who gave her name only as Irum married her cousin on July 1 after a seven-year engagement, but was depressed about their chances of married life in Britain.
"I don't know when will I be able to live with my husband in the UK," she said, adding she would have to find a better paid job.
"It may take weeks, months or years. I don't know, I am really not sure about my future."