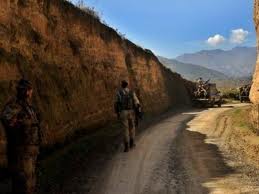 The 11 percent downturn in overall incidents of violence and terrorism in 2010 does not suggest that the security situation in Pakistan has improved. This declining trend in violence would be short-lived in absence of a comprehensive, all-inclusive and long-term counter-terrorism strategy. It is imperative that the government also takes into account the political, socio-cultural and developmental initiatives in addition to use of force against the militants.
These views were expressed by the participants in the launching ceremony of Pakistan Security Report 2010 held on January 17, 2011 in Islamabad. Pak Institute for Peace Studies (PIPS) prepared and published the report.
PIPS Director Muhammad Amir Rana noted in his opening remarks that the said decrease in violence could be attributed mainly to three factors: military campaigns in Pakistan's tribal agencies, increased surveillance by the law enforcement agencies in Khyber Pakhtunkhwa and Balochistan, and killing of some important militant commanders in US drone strikes.
Despite this decrease in number of incidents of violence in 2010 compared to the previous year, the level of violence in Pakistan during the year was still higher than in Afghanistan and Iraq. Research Analyst at PIPS Abdul Basit presented a summary of Pakistan Security Report 2010, which revealed that the militant landscape of Pakistan had become more complex over the past year. He underlined that the overall downturn in violence in 2010 was visible due to significant decrease in incidents of violence and terrorism in Khyber Pakhtunkhwa – 60 percent to be precise – compared to 2009.
Such incidents nonetheless had increased considerably in Sindh, Punjab and Gilgit-Baltistan during the year. Karachi remained the most critical area, where combination of ethno-political, sectarian and criminal violence had caused more than 288 percent increase in the incidents of violence and terrorism in 2010.
Farhat Asif, editor of the Diplomatic Insight, questioned the credibility of the data which was used to prepare the report particularly number of incidents and the casualties. Responding to her, Abdul Basit explained the constraints in collecting and counter-checking the data on incidents of violence and terrorism in Pakistan in particular and in the world in general.
In absence of some officially maintained database of such incidents and lack of access to conflict zones, PIPS has been relying on a wide range of regional and national newspapers along with field resources, available official records, regional correspondents, and strict cross-checking processes with reports of other local and foreign institutes. Amir Rana added that there was relatively more margin of error in the data on military operations and drone strikes while this margin of error for other areas was somewhat between 2 to 3 percent.
John Mottam of CCBLE raised a question about Al-Qaeda's role in funding the militant organizations in Pakistan. Khuram Iqbal, a researcher at PIPS, argued that Al-Qaeda had more ideological influence among the Pakistani militant groups to resort to its agenda of global 'Jihad'. Pakistani militant groups have nonetheless developed their indigenous and diverse funding sources such as extortion of money, charities, kidnapping for ransom and nexuses with criminal groups etc.
Navid Shinwari, executive director of Community Appraisal and Motivation Program (CAMP) validated that revival of tribal Lashkars without systematic and sustained support by the government could lead towards civil war in the country. Manzar Abbas Zaidi, a counter-terrorism expert, opined that low number of terrorist attacks in southern Punjab is not suggestive of absence of militant infrastructure in that region. Rather, militant outfits are using those areas as a recruiting ground.