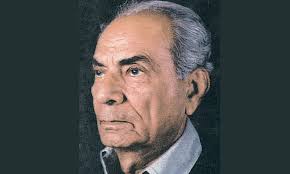 Sobho Gianchandani, one of Pakistan's last leaders from its first generation of Marxists, has died at the age of 94.
He suffered a heart attack and was cremated in his native village near the southern city of Larkana on Tuesday.
Gianchandani was a member of the Communist Party of Pakistan and stayed active after it was banned in 1954.
He was one of the last remaining Pakistani students of Rabindranath Tagore, a literary figure and Nobel laureate from West Bengal in India.
Gianchandani's death closes the chapter on a generation of leftist politicians who organised peasants and industrial workers during 1940s, 50s and 60s.
Analysts say it was this work that led to the 1970 election victory of the overtly socialist Pakistan Peoples Party in an otherwise conservative and religious country.
Gianchandani's family said he had died in his chair after being served morning tea on Monday.
He had been suffering from cardiac problems complicated by a severe chest infection and had been in hospital twice in recent weeks.
Communist and Hindu
Gianchandani was born on 3 May 1920 to a Hindu family in Bundi village near the famous archaeological site of Mohenjo-Daro in Larkana district, Sindh province.
He went to school in Larkana and Karachi.
Later he studied fine arts at a university set up by Rabindranath Tagore at Shantiniketan, his native village in West Bengal.
In a subsequent interview, Gianchandani said he had espoused communism during his time at this university.
He said Tagore, who was then in his late 70s, used to call him "the man from Mohenjo-Daro".
In 1942, Gianchandani participated in the Congress-led anti-British Quit India movement, and was arrested for the first time.
He was repeatedly jailed for his views and politics during a political career that lasted until the mid-1960s.
But he continued as an ideologue, intellectual and writer of several books.
In an interview in 2009, recalling the active period of his political life, he said he had become a "three-headed monster" for the Pakistani establishment.
"I am a communist, I am Hindu and I am Sindhi," he said, light-heartedly referring to his minority identity within Pakistan