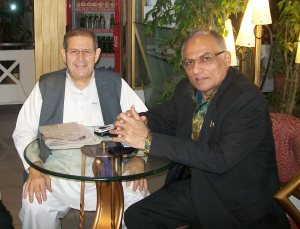 WASHINGTON, April 23 — For more than a decade, Warren Weinstein, an American aid worker and economic adviser, worked in Pakistan trying to improve living conditions there. He moved to the city of Lahore. He learned the Urdu language and dressed in the traditional clothing.
His work came to an abrupt end in the summer of 2011, just days before he was scheduled to return to his family home in Rockville, Md., when he was abducted by a group of armed men who broke into his home in Model Town, an old, affluent neighborhood in Lahore.
United States intelligence officers searched for him for years, but the White House revealed on Thursday morning that Mr. Weinstein, 73, had been killed when he was present during an American counterterrorism strike at a compound of Al Qaeda in January. Giovanni Lo Porto, 37, an Italian who had been held since 2012, was also killed in the strike.
In an extraordinary statement on Thursday, President Obama apologized for the strike and hailed Mr. Weinstein as a humanitarian who had committed his life to a "spirit of service" to his own country and to the people of Pakistan.
The home of Warren Weinstein's family in Rockville, Md., on Thursday. Credit Jose Luis Magana/Associated Press
"He devoted his life to people across Africa and South Asia," a somber, grim-faced Mr. Obama said. "He was a loving husband, father and grandfather, who willingly left the comforts of home to help the people of Pakistan."
Elaine Weinstein, Mr. Weinstein's wife, expressed her grief at the discovery of his death in a statement she posted on a website, www.bringwarrenhome.com, that had been set up to find him and bring him home safely.
"We are devastated by this news and the knowledge that my husband will never safely return home," she wrote. "We were so hopeful that those in the U.S. and Pakistani governments with the power to take action and secure his release would have done everything possible to do so, and there are no words to do justice to the disappointment and heartbreak we are going through."
A veteran aid worker, Mr. Weinstein had spent more than 40 years traveling the world, serving in Africa and South Asia before settling in Pakistan, where his wife once wrote that he had sought to help strengthen the country's dairy, agriculture and furniture industries.
A Fulbright scholar who earned his Ph.D. in international law and economics, Mr. Weinstein was proficient in seven languages. He served as a Peace Corps director in Ivory Coast and Togo. From 2004 until he was captured in 2011, he worked as an adviser for J.E. Austin Associates, a contractor for the United States Agency for International Development.
"He was a genuinely warm person," said Stephen R. Weissman, the former staff director for the House of Representatives Subcommittee on Africa, who first met Mr. Weinstein in 1974. "Someone said to me that he is not worried about Weinstein being with Al Qaeda because he would win them over. He was that kind of person."
Mr. Weinstein's relatives have attributed his decision to take an assignment in Pakistan to his longstanding affinity with that troubled country, which was also felt by the Pakistanis he met.
"He was an unassuming man who liked wearing shalwar kameez and lived happily without much security," said Fasi Zaka, a consultant who met Mr. Weinstein in Peshawar, Pakistan, the capital of conflict-ridden Khyber-Pakhtunkhwa Province. Shalwar kameez is the baggy trousers and long shirt that constitute Pakistan's national dress.
"Behind the genial exterior was a very smart man committed to Pakistan and making its broken systems work," Mr. Zaka said. "The first time I met him, he said, 'Show me the smart kids who aren't afraid of getting their hands dirty in the field.' "
In a column she wrote last year for Newsweek, Mrs. Weinstein described the sense of peace and security that her husband often said he felt working in Pakistan.
"Warren especially respected the culture's focus on hospitality and the welcoming of strangers embodied in unwritten codes such as the concept of Pashtunwali," Mrs. Weinstein wrote. "This welcoming atmosphere, and the protection it promised, gave my husband a great sense of peace and safety, and he made every effort to reciprocate it."
But she also described her concern for her husband's failing health. She said he had severe asthma and a heart condition. She said she worried that his health would suffer during his captivity.
"If he is not afforded the traditional Pakistani hospitality that he has come to love and respect, I fear that we will lose him," Mrs. Weinstein wrote in the column.
Mrs. Weinstein said that during her husband's captivity, he was not allowed to communicate with anyone back home. The only images that she saw of him were the occasional videos released on the Internet by Al Qaeda. The last of those, in December 2013, showed Mr. Weinstein with a gray beard and wearing a cap.
In the video, he pleaded with Mr. Obama to negotiate with the captors for his release, saying he felt "abandoned and forgotten" by his country.
"The years have taken their toll," Mr. Weinstein said in the video. "I have been cut off from my family. My wife, who is over 70, my two daughters, my two grandchildren, my son-in-law and perhaps new members of the family whom I have never met. Needless to say, I have been suffering deep anxiety every part of every day."
Mr. Weinstein's death from an American drone strike is a tragic twist on a case that had already put a human face on the cost of United States involvement in the campaign against terrorism. In the 2013 video, and in an earlier one in 2012, Mr. Weinstein had pleaded with the president to secure his release.
"My life is in your hands, Mr. President," Mr. Weinstein said in the 2012 video. "If you accept the demands, I live. If you don't accept the demands, then I die."
Jeanene Harlick, a longtime friend of Mr. Weinstein's daughter Alisa, said the family had struggled during his captivity, though they initially stayed quiet about it, fearing that starting a public campaign might hurt their chances of getting him back.
"They were frustrated with the way the government was dealing with it, and that the government was giving them very little information," said Ms. Harlick, 41, of San Mateo, Calif., who met Ms. Weinstein in 2004 when they were both journalists at a newspaper in Oregon.
Ms. Harlick described Mr. Weinstein as a selfless person who passed on his generosity and compassion to his daughter.
"Most of his life was spent in foreign countries, and that was very hard for his family, but he did it because he was so devoted to helping these people," Ms. Harlick said.
He reveled in his aid work and had an active and unusual mind, she added, learning several languages to communicate in the countries where he traveled, and even inventing his own language and filling many journals with writings in it.
Mr. Weinstein's family had mounted a yearslong multimedia campaign to return him to the United States. They used the Twitter hashtag #BringWarrenHome, and they sought media appearances to keep pressure on his captors and on the United States government.
The website, which includes pictures of Mr. Weinstein and his wife in happier times, was updated Thursday morning with a small black box bearing white type: "Warren Weinstein was kidnapped on August 13, 2011, while working in Lahore, Pakistan, and died in captivity during a U.S. counterterrorism operation in January 2015."
Meredith McCain, 65, lives across the street from Mrs. Weinstein in Rockville, on a quiet street where neighbors tied yellow ribbons around the trees. Ms. McCain said that she did not know Mr. Weinstein because he was often abroad, but that his wife had once attended a birthday party for Ms. McCain's sister, with whom she lives.
"She talked about him in the here and now," she said, adding, "He was never off her mind."
Correction: April 23, 2015
An earlier version of this article misstated the name of the contractor for whom Warren Weinstein worked as an adviser. It was J.E. Austin Associates, not J.E. & Austin Associates.
Rukmini Callimachi contributed reporting from New York; Julie Hirschfeld Davis from Washington; Salman Masood from Islamabad, Pakistan; Emmarie Huetteman from Rockville, Md.; and Declan Walsh from London.