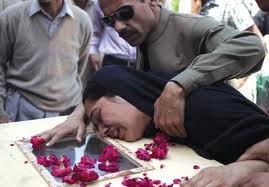 ISLAMABAD, April 23: The Civil Aviation Authority (CAA) on Monday began an inspection of all passenger planes operated by private airlines after a near-miss in Karachi that came just two days after a fatal crash in Islamabad.
The checks were ordered on Sunday after a Shaheen Air flight with 178 people on board narrowly avoided disaster when its left rear tyre burst after its landing gear broke as it touched down at Jinnah International Airport in Karachi.
On Friday, a Bhoja Air Boeing 737 came down in fields near Islamabad as it tried to land, killing all 127 people on board – Islamabad's second major crash in less than two years.
"The CAA launched a comprehensive inspection of airplanes being flown by private airlines, from today," CAA spokesman Pervez George told AFP.
The CAA has already received a plane from Bhoja Air for so-called "shakedown" checks by engineers, George said.
He refused to give any timeline for completion of the process, saying "it is difficult to say how much time the inspectors will take to examine each plane and all its systems".
"We have asked all the private airlines to reschedule their domestic and international flights during the inspection so the passengers do not have to suffer," he added.
Inspection work will begin with Bhoja Air planes before moving on to Shaheen Air International and Airblue.
George said planes from the national flag carrier Pakistan International Airlines (PIA) had shakedown checks a few months ago and would not be subject to the special inspection.
Another Shaheen flight with more than 100 passengers bound for the Iranian city of Mashhad was prevented from taking off at Lahore on Sunday after a fuel overflow during refuelling, George said.
In July 2010 an Airbus jet operated by Airblue crashed into the hills overlooking Islamabad while coming in to land after a flight from Karachi, killing 152 people in the worst air disaster ever on Pakistani soil.