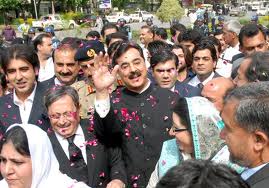 ISLAMABAD, April 26— Pakistan's Supreme Court on Thursday convicted Prime Minister Yousuf Raza Gilani of contempt for defying its orders to reopen an old corruption case against the president, but the justices spared Gilani any prison time.
The sentence was symbolic, lasting only until judges left the courtroom. But Gilani's political future remains clouded with the possibility that he could still be removed from office.
For months the political crisis had distracted from U.S. efforts to restore full diplomatic ties with Pakistan, which were badly strained after American warplanes inadvertently bombed two border outposts last November, killing 24 Pakistani soldiers.
The continuation of Gilani and his party in power, at least for now, provides a measure of stability that experts say should help speed the resumption of a cooperative, if uneasy, relationship between the two counterterrorism allies. Pakistan's Parliament has already indirectly granted the chief U.S. request: that the nation reopen its border to NATO convoys, including thousands of oil tankers, that supply troops in Afghanistan.
Gilani could have been sentenced to up to six months in prison, but his ruling Pakistan People's Party was hardly pleased with the outcome. "This is a dark day in the history of the country," Firdous Ashiq Awan, a former information minister, told journalists outside the court.
Analysts were divided over whether the conviction meant the prime minister would have to give up his seat in Parliament, and thus his higher office. They said that could happen in a matter of weeks or months, depending on the outcome of legal wrangling.
Political score-settling here often includes new leaders bringing questionable criminal cases against members of parties who have fallen from power. Gilani's conviction stemmed from his adamant refusal to pursue money-laundering and kickback cases brought by Swiss authorities against President Asif Ali Zardari.
Gilani has maintained that the constitution grants Zardari immunity from prosecution, and Zardari has denied the allegations, which date to the 1990s.
Although Gilani has served longer than any prime minister in the nation's 64-year history, he also bears the stain of being the only prime minister found guilty of contempt; two others were charged but not convicted.
After his courtroom punishment, which lasted about 30 seconds, Gilani chaired a special cabinet meeting where he seemed sanguine about the entire matter. "Politics has lots of ups and downs," he said, according to one cabinet member in the room and various media reports.
A career in politics means unavoidable tumult, the embattled premier noted, offering an Urdu proverb: "Working with coal will make your hands black, too."
Opposition leader Nawaz Sharif, who himself faced contempt of court charges as prime minister in 1997, called on Gilani to quit.
"He should step down without causing further crisis," Sharif said on the cable channel Geo News. He also called for new elections.
Correspondent Shaiq Hussain contributed to this report.