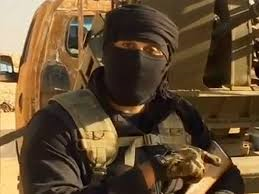 A British jihadi nicknamed "Barbie" who sneaked back to the UK from a training camp in Syria has been jailed for 12 years.
Imran Khawaja, a "poster boy" for an Isil-linked terror group, got fed up with the conditions in the war-torn region, so he faked his own death by falsely spreading rumours online and fled for the UK, a court heard.
But the 27-year-old bodybuilder was caught trying to re-enter the UK at Dover and was today handed a 17-year extended sentence, 12 of which will be spent in custody.
Woolwich Crown Court heard that Khawaja – who has links with British hostage executioner Jihadi John – had complained of a lack of toileteries, cocoa butter and condoms for the "war booty" during his six-month stint with the Rayat al-Tawheed (RAT) insurgents in the Middle East last year.
ICSR / King's College London
Extremist: Imran Khawaja got fed up with the conditions in Syria
During the two-day sentencing hearing, the court was shown disturbing footage of Khawaja reaching into a bag of severed heads before pulling one out with his bare hand, getwestlondon.co.uk reports.
The 27-year-old can be heard saying: "Heads, kuffars [non-believers]. Disgusting."
However, a psychological assessment of the defendant concluded he had restricted cognitive ability, a lack of critical thinking, poor concentration and an IQ that was within the lowest 12% in the country.
As a consequence he was found to be vulnerable to manipulation and radicalisation.
Khawaja travelled to Syria in January 2014 and became a leading figure within Rayat al–T awheed (RAT), a group linked to the Islamic State of Iraq and the Levant, the court was told.
By the end of May the group had released an image of the defendant, who pleaded guilty to terror charges last month, claiming that he had been killed in battle.
He was, in fact, on his way back to the UK, being driven by his co-defendant and cousin Tahir Bhatti, 45, from Watford.
In text messages read out in court, Khawaja – who was also known as Imz, Iron, Immi, Touchi and Cashew – complained of not having moisturiser and toilet paper while in Syria.
He had demanded cocoa butter and toiletries as well as "condoms for the war booty" and complained when his friends failed to send it.
Psychological assessment: Jihadi fighter Imran Khawaja has an IQ that within the lowest 12% of the UK Woolwich Crown Court was told
The court heard that Khawaja's family repeatedly begged him to come home even cajoling him with images of Nando's food.
He lied and told them he was doing charity work, telling his sister that he cared more for Allah than his family.
His sister replied on many occasions saying that "their parents' hearts were breaking" and that if "he didn't come home she would come and get him".
In messages home, Khawaja put pressure on his friends and family to send him money because "guns, cars cost money" and he wanted a "Rambo gun" and needed "shooters".
When that failed, prosecutor Brian Altman QC told the court that Khawaja decided, in May 2014, to briefly come back to the UK to sort funds out himself.
He was stopped by port officials at Dover while trying to regain entry to the UK with his cousin Bhatti.
Jihadi: Southall bodybuilder Imran Khawaja was jailed for 12 years
In a letter to the court, Khawaja apologised for his actions and urged other young Britons not to make the same mistakes he had.
In the note to the judge, he said: "I will just like to apologise for the laws I have broke [sic]. I am sincerely sorry. I have let my country, my family and my community down.
"I have nightmares about Syria. I am lucky to be alive. I would hate to see the young men of Britain to make the same mistake I made and say to them 'do not get attracted by the propaganda'."
Jailing Khawaja at Woolwich Crown Court today, judge Jeremy Baker handed him a 17-year term for the most serious offence.
It will comprise a 12-year custodial term before being released on licence.
He will serve a minimum of eight years.