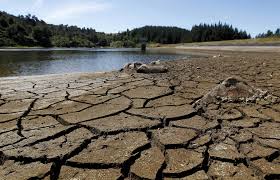 ISLAMABAD, Feb 14 — Energy-starved Pakistanis, their economy battered by chronic fuel and electricity shortages, may soon have to contend with a new resource crisis: major water shortages, the Pakistani government warned this week.
A combination of global climate change and local waste and mismanagement have led to an alarmingly rapid depletion of Pakistan's water supply, said the minister for water and energy, Khawaja Muhammad Asif.
"Under the present situation, in the next six to seven years, Pakistan can be a water-starved country," Mr. Asif said in an interview, echoing a warning that he first issued at a news conference in Lahore this week.
The prospect of a major water crisis in Pakistan, even if several years distant, offers a stark reminder of a growing challenge in other poor and densely populated countries that are vulnerable to global climate change.
In the interview, Mr. Asif said the government had started to bring the electricity crisis under control, and predicted a return to a normal supply by 2017. But energy experts are less confident that such a turnaround is possible, given how long and complex the problem has proved to be.
Now the country's water supply looms as a resource challenge, intensified by Pakistan's enduring infrastructure and management problems.
Agriculture is a cornerstone of the Pakistani economy. The 2,000-mile-long Indus River, which rises in the Himalayas and spans the country, feeds a vast network of irrigation canals that line fields producing wheat, vegetables and cotton, all major sources of foreign currency. In the north, hydroelectric power stations are a cornerstone of the creaking power system.
A combination of melting glaciers, decreasing rainfall and chronic mismanagement by successive governments has put that water supply in danger, experts say.
In a report published in 2013, the Asian Development Bank described Pakistan as one of the most "water-stressed" countries in the world, with a water availability of 1,000 cubic meters per person per year — a fivefold drop since independence in 1947, and about the same level as drought-stricken Ethiopia.
"It is a very serious situation," said Pervaiz Amir, country director for the Pakistan Water Partnership. "I feel it is going to be more serious than the recent oil shortages."
Shortages of resources have climbed to the top of the political agenda in recent years. Fuel shortages last month, for which government officials blamed mismanagement by the national oil company, caused lengthy lines outside fuel stations that embarrassed the government at a time of low global oil prices.
Mr. Sharif's government was already grappling with the seemingly intractable electricity crisis, which regularly causes blackouts of 10 hours a day even in major cities. And Mr. Sharif has been visibly distracted by grueling political duels, with the opposition politician Imran Khan, who accuses him of stealing the 2013 election, and with powerful military leaders who have undermined his authority in key areas.
Mr. Asif, the water and energy minister, said the government had started to turn the corner. But he acknowledged that the country's resource problems were, to a large degree, endemic. "There is a national habit of extravagance," he said, noting that it extended across resource areas, whether gas, electricity or water.
"I will be very careful not to use the word 'drought,' but we are water stressed right now, and slowly, we are moving to be a water-starved country," he said.
Evidence of chronic water shortages have been painfully evident in some parts of Pakistan in recent years. A drought caused by erratic rainfall in Tharparkar, a desert area in southern Sindh Province, caused a humanitarian emergency in the region last year.
"The frequency of monsoon rains has decreased but their intensity has increased," said Mr. Amir of the Pakistan Water Partnership. "That means more water stress, particularly in winters."
Water is also tied to nationalist, even jihadist, politics in Pakistan. For years, religious conservatives and Islamist militants have accused rival India, where the Indus River system rises, of constricting Pakistan's water supply.
Hafiz Saeed, the leader of the militant group that carried out the 2008 attacks in Mumbai, India, Lashkar-e-Taiba, regularly rails against Indian "water terrorism" during public rallies.
Mr. Asif said that contrary to such claims, India was not building reservoirs on rivers that flow into Pakistan. "We will never let it happen," he said, citing the Indus Water Treaty, an agreement between the two countries that was brokered by the World Bank and signed in the 1960s.
One major culprit in Pakistan's looming water crisis, experts say, is the country's inadequate water storage facilities. In India, about one-third of the water supply is stored in reservoirs, compared with just 9 percent in Pakistan, Mr. Amir said.
"We built our last dam 46 years ago," he said. "India has built 4,000 dams, with another 150 in the pipeline."
Experts say the country's chaotic policies are hurting its image in the eyes of Western donors who could help alleviate the mounting resource crises.
"The biggest looming crisis is of governance, not water — which could make this country unlivable in the next few years," said Arshad H. Abbasi, a water and energy expert with the Sustainable Development and Policy Institute, a research group based in Islamabad.