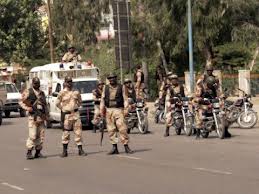 ISLAMABAD, Nov 21 — A series of suicide bomb attacks on Pakistani Shiites as they observed a major religious holiday killed at least 26 people and wounded dozens on Wednesday, heightening fears of further bloodshed in the coming days.
Shiites are observing the Mourning of Muharram, a 10-day period in which lengthy processions wind through major urban centers and that culminates on Sunday.
Despite efforts to step up security, including switching off cellphone networks for hours at a time, the government has been unable to prevent Sunni extremist militants from reaching their targets.
The deadliest attack occurred close to midnight in Rawalpindi, home to the military's headquarters, when a blast ripped through a religious procession headed toward a mosque in the city center. Witnesses told local television stations that a suicide attacker had flung a grenade into the crowd before detonating explosives strapped to his body. News media reports, citing the police, said at least 23 people had been killed and 47 had been wounded.
Hours earlier, two blasts in the port city of Karachi killed at least three people and wounded at least 17. A suicide bomber riding a motorcycle rammed into a rickshaw, setting off an explosion that killed two people and wounded several others. Moments later a second blast at the same location killed another person and wounded about 10, including journalists who had rushed to the scene of the first blast.
Sectarian violence in Pakistan has acquired a deadly momentum over the past year with attacks on minority Shiites across the country, from passes in the northern mountains to the tribal belt along the Afghan border and major cities including Karachi and Quetta.
The attacks are mostly by sectarian groups, like Lashkar-e-Jhangvi, that also have ties to the Taliban, Al Qaeda and other Sunni extremist militant organizations.
The violence coincided with Pakistan's hosting of the Developing Eight summit meeting, an international gathering intended to promote trade and investment that brings together Bangladesh, Egypt, Indonesia, Iran, Malaysia, Nigeria, Pakistan and Turkey.
Thousands of extra police and security forces have been drafted into the capital, Islamabad, where the summit meeting is to start on Thursday. Among the leaders expected to attend are President Mahmoud Ahmadinejad of Iran, President Mohamed Morsi of Egypt and Prime Minister Recep Tayyip Erdogan of Turkey.
Other violence in Pakistan on Wednesday further underscored the precarious security situation. A bomb in Quetta, the capital of Baluchistan, exploded near a security vehicle escorting children to school, killing three soldiers and two passers-by. People suspected of being Islamist militants shot and killed four policemen near the town of Bannu, on the edge of the tribal belt.