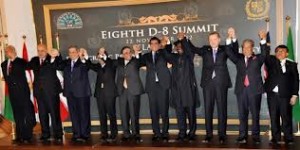 The hosting of the Developing Eight Summit in Islamabad, which commenced on November 22, means more than a gathering of eight Muslim nations, as far as Pakistan goes. The meeting, at which President Asif Ali Zardari took over the chairmanship of the group from his Nigerian counterpart, offers Pakistan a chance to pull itself back into the mainstream of global life from the fringes to which it has been pushed, chiefly due to security reasons. The fact that five heads of state attended the event, with Bangladesh and Malaysia represented at the adviser and ministerial levels respectively, marks a rare success for Pakistan — a nation that stands increasingly isolated.
The D-8 group consists of eight nations with a combined estimated total population of one billion. The theme of the summit was  'Democratic partnership for peace and prosperity'. Pakistan remained keen to focus on trade issues and economic cooperation during the Summit, the events in Gaza overshadowed Summit proceedings to a considerable degree, especially since Iranian President Mahmoud Ahmadinejad, Egyptian leader Mohamed Morsi and Turkish Prime Minister Recep Tayyip Erdogan are all key players in the Middle East crisis. Pakistan was also able to bring up the main item on the agenda: increasing trade between member countries from $130 billion to $507 billion by 2018.
As significant as the discussions were, the symbolism involved in the Summit, marked a major triumph for the government. The visit by Goodluck Jonathan was the first by a Nigerian leader in 28 years. To ensure safe movement to their respective destinations, massive security was put in place, creating a traffic logjam for the locals. This, however, is the price we pay for the militancy that lives on in the country — an issue also discussed at the Summit. We must hope the meeting with key leaders can bear fruit as intended by the objectives of the Summit.
Published in The Express Tribune, November 23rd, 2012.