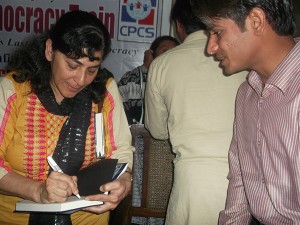 WASHINGTON DC/KARACHI: About a year after Aboard the Democracy Train was reprinted by Paramount Books in 2013 and launched across Pakistan, the hard back edition is practically sold out. A recent visit to the homeland revealed that non governmental organizations have been in the forefront of purchasing the book, which also documents the struggles by civil society for tolerance and rule of law.
While the train of current events keeps rushing on, the book is based on the philosophy that in order to understand the future one has to know the past. Hence the Amazon website (which sells the book internationally), has on and off rated the book as a best seller  within the category of `Pakistan history.'
Inside Pakistan, the remaining copies of the book can be ordered individually through the Assistant Manager Sales, Marketing & Administration, Furqan Arbi (Telephone: (021) 34310030/1 ext 213). Alternately, online delivery may be assured  by clicking on the Paramount website: http://www.paramountbooks.com.pk
Outside Pakistan, Aboard the Democracy Train is available in electronic form, including Kindle. The paper back print edition can still be purchased internationally through Anthem Press, London, Anthem Press website and a host of online sellers.