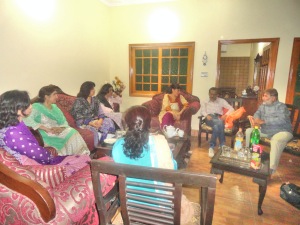 Hyderabad, Aug 21: ATDT author was feted at a gathering of the Women's Action Forum, hosted by Sindh University lecturer and media personality Irfana Mallah in Hyderabad.
The gathering, which included male contemporaries, discussed the situation pertaining to Sindh and the expectations that have evolved since this year's election. Speakers said that the PPP's set-back nationwide had confined them to their home province, where they had been voted in to resolve people's local problems.
According to the speakers, over the last five years, the intrusion of big money in politics – including the recent election campaign – had facilitated the culture of corruption. Education had deteriorated, while employment was based on ethnicity and patronage rather than merit.
There was discussion about the involvement of major power players (including political parties) in patronizing criminal elements. They said that the phenomenon of kidnappings for ransom had particularly set back development initiatives in Sindh.
In the course of frank discussions, the women acknowledged the need for support from male members in order to end marginalization, and to work together for socio economic advancement and justice within society.