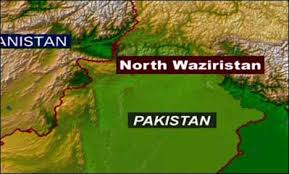 ISLAMABAD: The government is all set to launch a ground offensive in North Waziristan Agency, signalling a paradigm shift in its policy. Talking to The Express Tribune, both government and security officials confirmed that the civil and military leaderships have finally concluded that a targeted military operation is now 'unavoidable'.
A high-level meeting chaired by Prime Minister Nawaz Sharif and attended by army chief General Raheel Sharif and other senior officials on Thursday discussed several options to deal with the Taliban in the face of a recent surge in attacks carried out by the group.
One official, who asked to remain anonymous, disclosed that there was a 'greater realisation' among all stakeholders that certain groups will never enter into dialogue and will have to be dealt with the use of force. Sources said the decision to initiate a ground offensive in March is believed to be taken on account of the challenge posed by the harsh winter in North Waziristan to security personnel operating in the agency. However, surgical strikes may soon be carried out against Taliban hideouts ahead of the targeted operation in the tribal region.
When asked a security official pointed out that the military was ready to take on the challenge. "We [the army] have the capacity and the will to eliminate all such groups which are not willing to reconcile," said the official.
Pakistan has long resisted foreign pressure to launch a ground offensive in North Waziristan, which is considered a safe haven not only for TTP, but several other groups, such as the Haqqani Network.
It is unclear, however, whether the March operation will also target the Haqqani Network.
One retired officer, who is still closely connected with the security establishment, said the Haqqanis by now probably understand that the operation in North Waziristan is inevitable.
"The Haqqanis have strongholds in Afghanistan's three provinces and they will definitely move out of North Waziristan before the start of any operation," the retired two-star army officer told The Express Tribune.
However, he said a military operation should have been carried out much earlier and a lot of time had already been wasted in the name of peace talks.
The Express Tribune has also learnt that the recent air strikes in North Waziristan were carried out after security agencies exploited divisions within various outfits operating in the region. Some of the groups, which are willing to hold peace talks, had provided 'key intelligence' about the presence of senior TTP commanders and other foreign fighters in Mir Ali and Miramshah.
On the other hand, a senior cabinet member said the government would still hold talks with groups willing to reconcile. "But those who are not willing to accept our peace offers will have to be dealt with accordingly," he added.