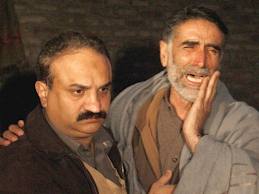 Islamabad, Jan. 2: Pakistani police on Wednesday searched for the gunmen behind the brazen murder of five teachers and two health workers, amid fears that public health campaigns would suffer and lead to a resurgence of polio and other preventable diseases.
There was no immediate claim of responsibility for the attack, which occurred Tuesday in Swabi, a city in the troubled northwest. The Pakistani Taliban has in the past vowed to target, among others, health workers involved in campaigns to wipe out polio.
Last year, 15 health and aid workers were killed in Pakistan, making the country one of the most dangerous in the world for aid workers, according to the British-based consultancy Humanitarian Outcomes. Most were women. Development sector experts now express concerns that those working on the ground will shy away from assignments.
"In the past, local volunteers, be they teachers, medical workers or social mobilizers, considered themselves safe and worked hand in hand with foreign aid workers and paramilitary personnel in even the most dire of circumstances," says Hassan Belal Zaidi, a development and communication specialist, based in Islamabad. "But now, it would not be unreasonable for them to think twice and even refuse to travel to remote parts of the country if they know there is a chance they may get shot."
The six women and one man were traveling in a van when gunmen on motorcycles stopped it Tuesday afternoon after it left a children's community center, according to Abdur Rasheed Khan, chief of the Swabi police force. The four gunmen took a 4-year-old boy belonging to one of the women from the van, and then raked the vehicle with gunfire, he said. The child was unharmed and was later turned over to police by bystanders, he said.
Recommended: How much do you know about Pakistan? Take this quiz.
These murders come a few weeks after nine health workers with national polio campaign were killed in different parts of the country in what police said was a coordinated attack. That prompted the Pakistani government and the United Nations agencies to suspend their vaccination drive for the disease, which has seen a uptick in cases in recent years.
Pakistanis one out of the three countries where polio persists; at least 57 cases were registered in 2012. The World Health Organization last year warned Pakistan that it could face travel and visa restrictions and sanctions imposed by other countries if polio continues to spread
Distrust of public health initiatives like the polio campaign is particularly strong in districts of Pakistanwhere religious extremists have tightened their grip. That sentiment deepened in 2011 after the US raid that killed Osama bin Laden. A CIA-led operation to confirm Mr. bin Laden's location in the city of Abbottabad used a hepatitis B vaccination campaign to gather DNA evidence on bin Laden.
The recent attacks are likely to further frighten people from working with foreign and Pakistani aid and development organizations, says Bushra Arain, chairwoman for the All Pakistan Lady Health Workers Welfare Association, which counts more than 100,000 registered members.
"We are the backbone of Pakistani health sector. If the attacks continue, with the state showing the inability it currently is demonstrating in stopping us from being targeted, we will stop working," Ms. Arain says.
The Taliban and affiliated groups are targeting aid workers for several reasons, says Khadim Hussain, who heads one of the largest private charity school networks in the northwestern Khyber Pakhtunkhwa province. First, the militants think aid groups have an anti-Muslim agenda, spying on the local population, a suspicion that was deepened by the raid on bin Laden. Secondly, the groups equate health campaigns with modernizing society, in opposition to some fundamentalist tenets for Islamic radicals. Some groups also believe the vaccine is intended to sterilize Muslim children.
"If the attacks by the Taliban continue, there will be widespread de-motivation amongst aid workers, which I am already witnessing," Mr. Hussain says.
While some development advocates say there needs to be a coordinated, public response by Pakistani and foreign NGOs to the attacks, others say the government should stop public education campaigns altogether and just allow aid workers to operate quietly.
"The less attention we get, the less vulnerable we will be as targets for the terrorists," Ms. Arain says.
"We are involved with anti-polio drive, infant health awareness programs, family planning, etc. and if the government does not pull its act together, many deadly diseases can spread rapidly inPakistan," she says. "The situation can get out of hand."